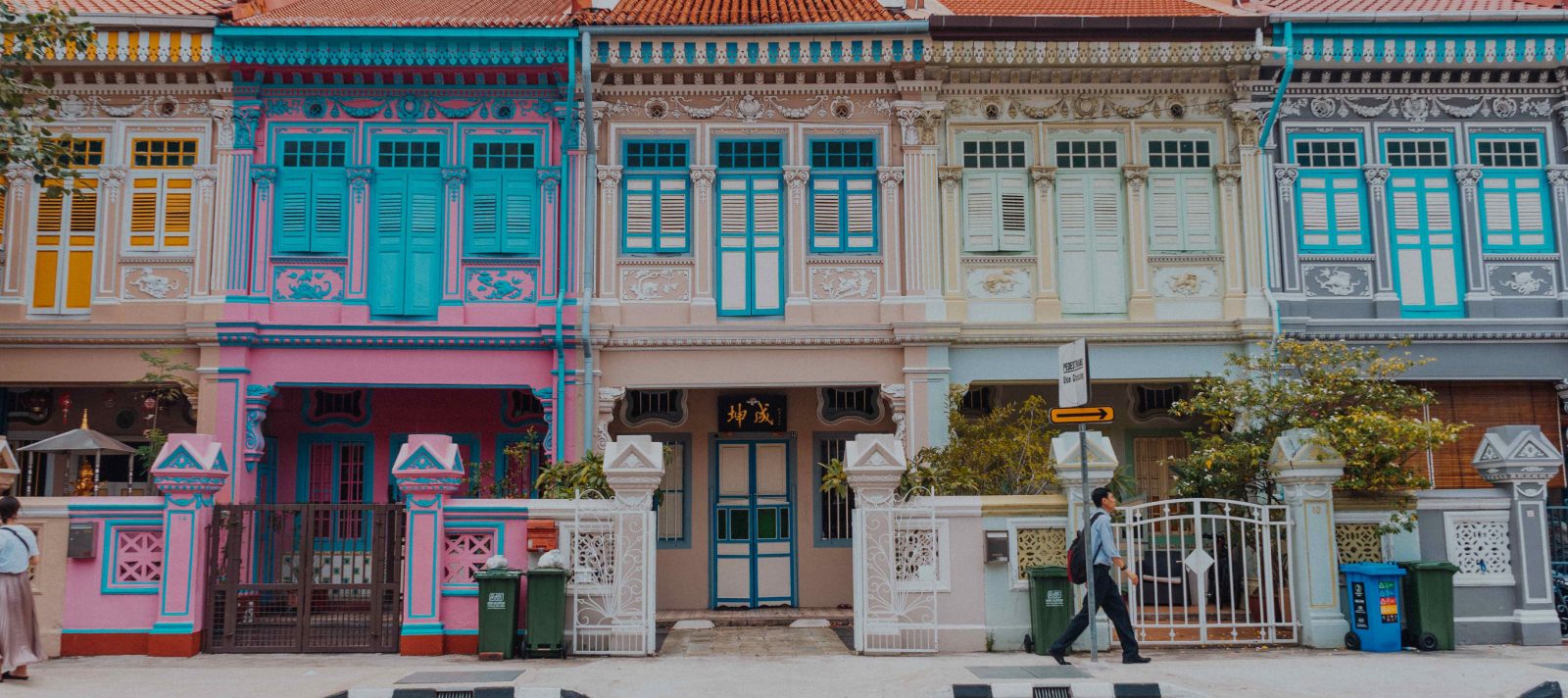 Where to Eat in Katong & Joo Chiat, Singapore
Katong is Singapore's Most Underrated Food Neighbourhood
Words & images  by Sofia Levin
OG laksa, wanton mee and postcard-perfect Peranakan houses: Katong is Singapore's most underrated food neighbourhood filled with history and traditional dishes. You'd be crazy to miss it.
On the last day of being overseas a suffocating feeling rises from the pit of my stomach and creeps to the base of my throat. I wake up early – like, 5am early – and need to go, go go.
God help you if you slow me down, because I will damn well leave you behind. I've self-diagnosed it an irrational fear of running out of time to eat everywhere one desires during overseas travel. Put simply, I get a bad case of FOMF, the Fear of Missing Food.
It's the day before I'm due to leave Singapore and I'm experiencing a serve bout (not to be confused with gout) of FOMF. I leave the man I vowed never to leave in the hotel and catch a Grab rideshare car to Katong, Joo Chiat Road. The area is increasingly popular among Instagrammers, courtesy of the 1920s pastel Peranakan shophouses on Koon Seng Road, but there's plenty to eat here, too. I make a beeline for Roxy Square food court. It feels right to start the day with laksa, a Nonya specialty. I'd read up on the Original Katong Laksa stall and realised that unlike nearby 328 Katong Laksa – made popular by Gordon Ramsay and awarded Bib Gourmand status by the Michelin Guide – Original Katong Laksa is genuinely, well, the original.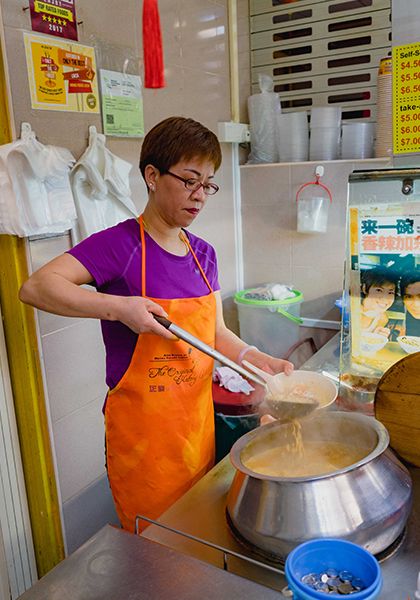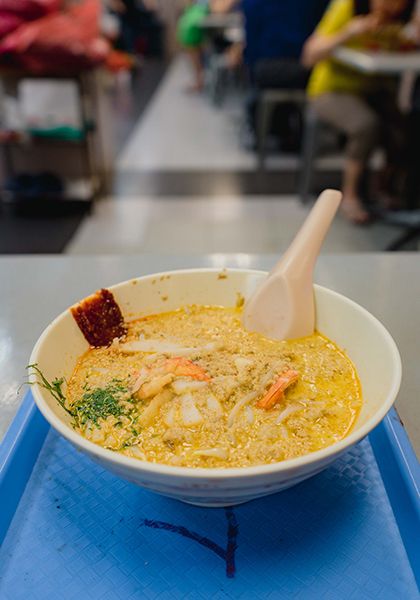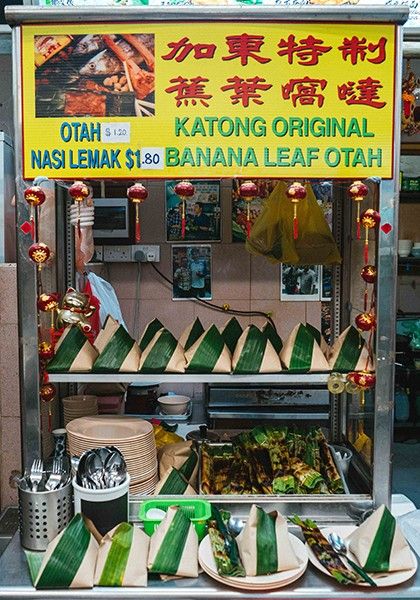 According to local food authority Dr Leslie Tay of ieatishootipost.sg, the founder of Original Katong Laksa peddled the coconutty soup along East Coast Road in the 1950s, before moving into a shop in 1963. At the time it was called Marine Parade Laksa, and it was the first laksa joint to cut its rice noodles so the dish could be easily slurped with a spoon. Marine Parade Laksa closed in 1978, and 328 Katong Laksa eventually occupied the same space. Marine Parade Laksa reopened, rebranding as Janggut Laksa (janggut is Malay for "beard" and is apparently a teasing reference to the founder's hairy facial mole). Confusingly, Janggut Laksa is the other name of Original Katong Laksa. It now has stores in Roxy Square, Bedok and Queensway Shopping Centre. You can't miss the one in Roxy Square; its yellow sign declares, "More than 50 years experience in serving best Nonya laksa".
I join a small queue and order. A woman in an orange apron takes a bowl and warms the noodles by ladling them with broth, before tipping out the liquid again. She adds prawn, fish cake, bean sprouts and minced pork, before filling the bowl with gravy. I take it back to a table, clasp my spoon and slurp. It's mild, so I can properly taste the creaminess of the coconut and Vietnamese coriander – which is called daun kesum here. Even the small bowl is filling, but my FOMF won't let me stop there.
Next door to the laksa store is Bei-Ing Wanton Noodles, famed for wanton mee. The shop isn't as old as Original Katong Laksa, but it's older than me. The founder, Ray (he has a slightly crazed, Steve Buscemi-look about him) runs it while his kids cook out the back. I wait patiently, endlessly entertained by Ray orchestrating his staff and customers, waving them over and away and calling out order numbers in loud, staccato bursts, as if he has an in-built megaphone. "FOUR-TEE-THREE," he booms. "FOUR-TEE-FOUR." I'm next, but instead of the expected "FOR-TEE-FIVE" he looks up, cocks his head to the side and smiles, "AUS-TRAY-LEE-AHH," he says, arms spread theatrically like he's on stage.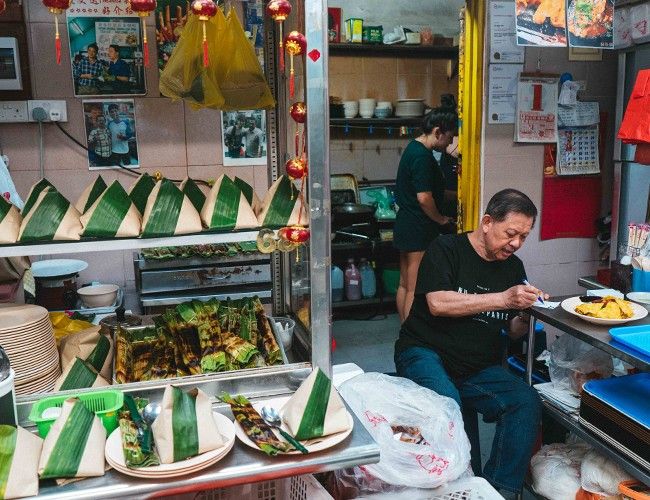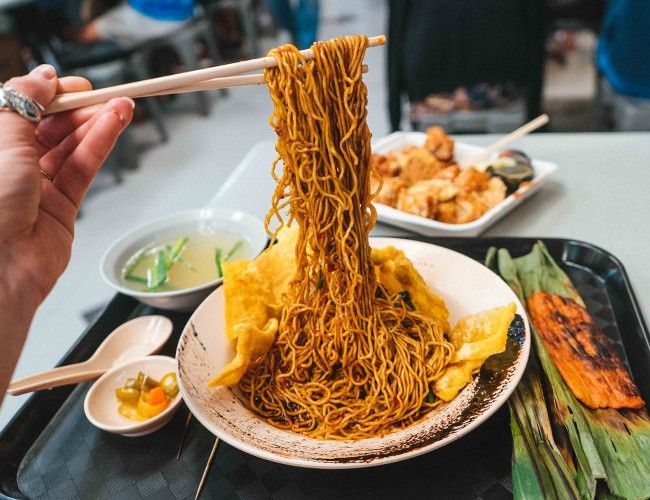 I return to my seat and start doing the tourist thing – taking photos of my food. A woman walks up and asks if she can sit opposite me. We start chatting about food as I shovel resistant, springy egg noodles into my mouth. My wanton mee looks like it's come from a restaurant kitchen, the bowl's edge brushed with viscid oyster and soy sauce. There's char siu (barbecued pork slices), brittle deep-fried and steamed pork wontons, pickled green chillies and a small bowl of broth. I also order otah from the warmed glass display, a Peranakan snack of fish paste mixed with herbs and spices, wrapped in a banana leaf and cooked over charcoal.
My new friend insists I share her meal from Original Katong Laksa's other neighbour, Kun Ji Rojak. Rojak means "mixture" in Malay and is a savoury fruit and doughnut salad, where elongated dough is sliced up along with fruit like mangoes, apples, pineapples and cucumber, as well as century eggs and fried bean curd skin. The ingredients are mixed through a sticky black sauce made from tamarind or lime juice, chilli, brown sugar and fermented shrimp paste, and then sprinkled with chopped peanuts and shredded pink ginger flowers. We empty our plates and continue to speak about Singapore's food scene and what it's like back in Australia. I almost forget about my FOMF. As we part ways, she points me in the direction of the Sri Senpaga Vinayagar Temple, Singapore's second-oldest Hindu temple.
I walk past pretty Peranakan architecture in calm, residential streets until I spot the 19th-century temple. Maha Luxmi blesses me with wealth and prosperity as I stare up at the salmon-pink figures, moulded in different positions of prayer, combat and dance. I stroll to Kim Choo Kueh Chang for traditional Peranakan kueh (cakes). Open since 1945, it's most famous for sweet and savoury Nyonya sticky rice dumplings, which are wrapped in bamboo leaves and suspended in bunches. The coloured strings indicate what's inside. I buy kuih dadar (also known as kueh tayap) to eat later – spongy green pandan crepes wrapped around shredded coconut steeped in palm sugar. I'm happy to finish on a sweet note, but if I had another day, I would have made it to the below places and subdued my FOMF. Five days was never going to be enough time in Singapore for this eater.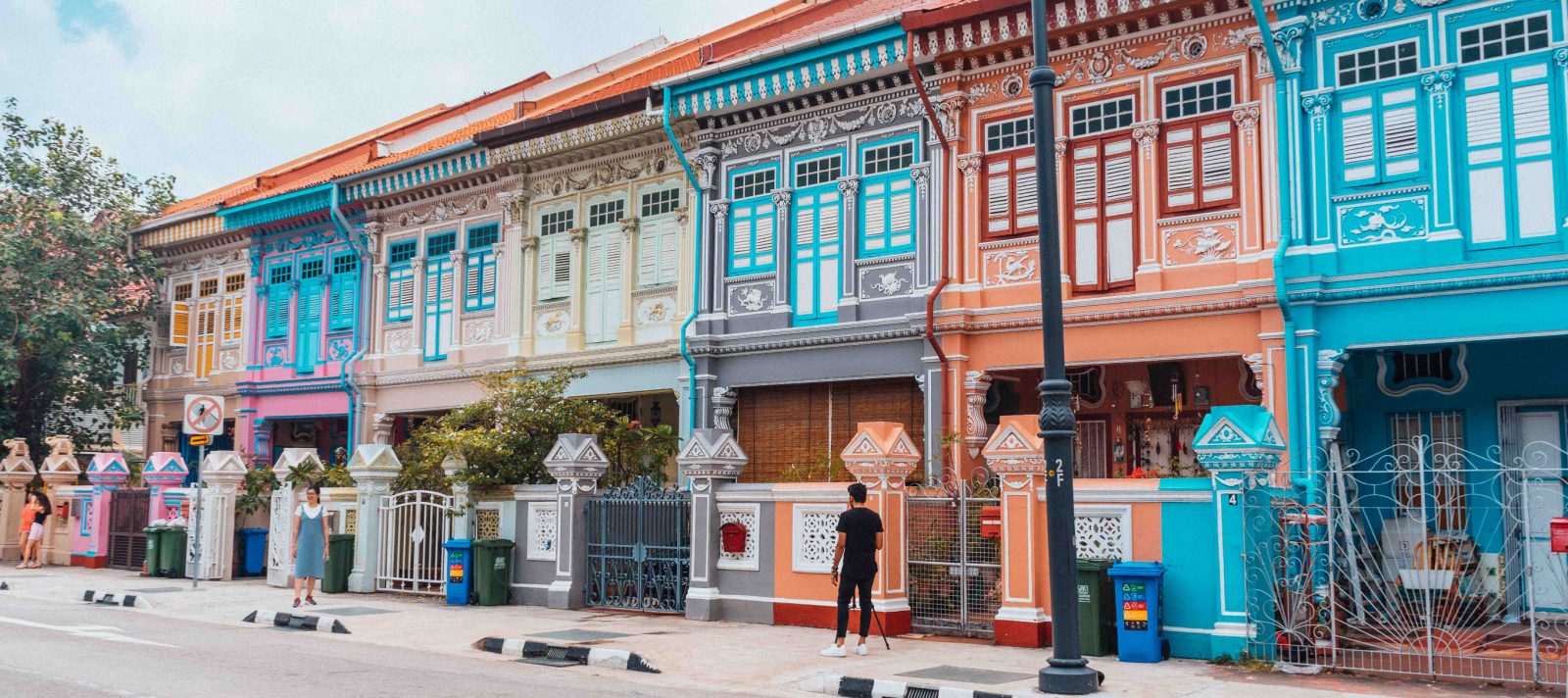 Three more traditional places to eat in Katong and Joo Chiat
Guan Hoe Soon Restaurant: the oldest Nonya restaurant in Singapore, this place has been serving Peranakan cuisine since 1953 (40 Joo Chiat Place, Singapore).
Mr and Mrs Mohgan's Super Crispy Prata: around for more than three decades, this is where locals eat breakfast. Watch the owners knead and fry South Indian prata flatbread, then dip yours in curry and enjoy (300 Joo Chiat Road, Singapore).
Kway Guan Huat Joo Chiat Popiah: this family-run business has been a cornerstone for the community since 1938, thanks to its popiah (thick, fresh spring rolls). Watch them make the thin crepes by hand every morning at 95 Joo Chiat Road, Singapore.
Around the World in 80 Lesser-Known Melbourne Restaurants
FREE food guide when you subscribe.