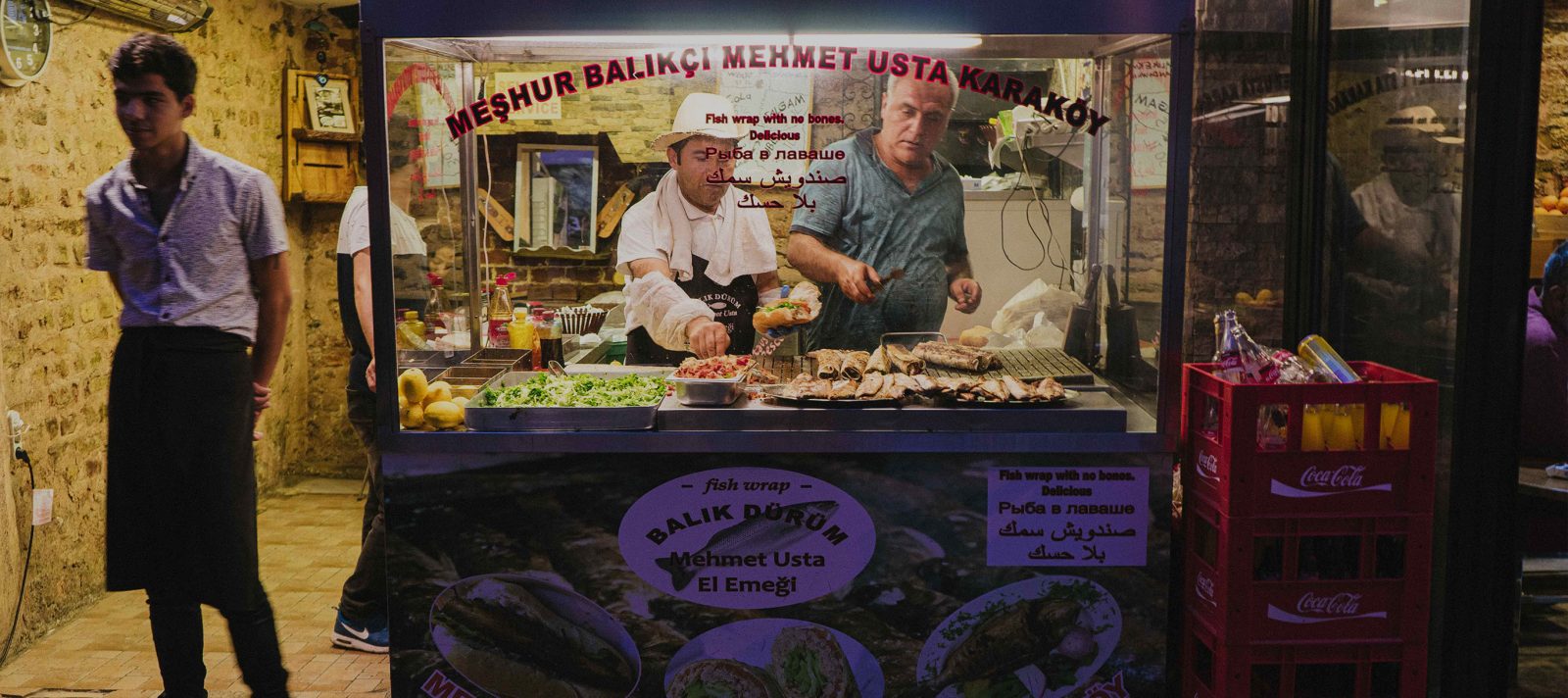 Real Istanbul
Street Food
7 Real Street Food Dishes in Istanbul and where to Eat them
Words by Sofia Levin
Images by Sofia Levin & Justin Meneguzzi
If you've been Googling "Istanbul street food", you've likely ended up in a similar spot as me, frustrated by lists that nonsensically include full-scale restaurants, Turkish breakfasts and drinks like beer and çay (tea).
Perhaps the detailed explanations of kestane (roasted chestuts) or mısır (boiled corn) feel a little basic given they're self explanatory and readily available in popular areas like Eminönü, Taksim Square and Sultanahmet, Istanbul's Old City (though keep an eye out for vendors offering turşu suyu, pickle juice). If you want to eat at a local restaurant, here's where to go. But if you want to stick to the streets, or street-side dining where food is fresh but readymade, consider this your Istanbul street food bible.
Food in Istanbul is a conduit between Asia, Europe and the Middle East. It's been at the centre of spice and other trades since Ottoman rule and has since been influenced by conquerors and immigrants. As Istanbul becomes more gentrified, eating street food is the simplest way to immerse yourself in its history.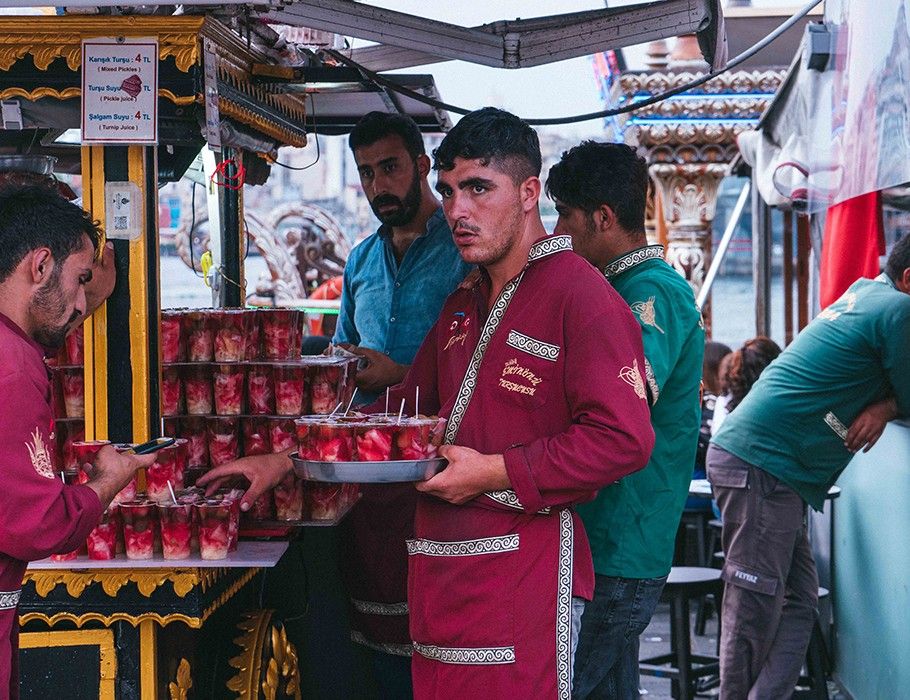 I'm often asked whether it's safe to eat street food, and it came up more than a few times during my Turkey travels. Commonsense reigns supreme when it comes to eating street food in any country. Pick a stand that's busy (popularity indicates regular turnover), check the level of hygiene (is the set up clean?) and use your senses (does it look and smell fresh?). Ask locals for recommendations, and if you want to be extra careful, avoid any food that isn't thoroughly cooked – though sometimes that takes the fun out of eating street food.
Here's a list of Turkish street food that extends far beyond the kebab, as well as some recommendations on where to taste them.
1. Tavuklu Pilav (Chicken Rice)
Pilav, known elsewhere as pilaf, is a simple and nourishing rice dish. Tavuklu (chicken) pilav is common in Istanbul, where vendors set up carts from which to scoop rice and protein for hungry customers. The best cook the rice in chicken stock and serve it with chickpeas, moist chicken breast and fatty pieces of chicken skin. Make like a local and add ayran salted drinking yoghurt to your order.
Try it at: Meşhur Pilavcı İsmail Usta – Taya Hatun, Tarakçılar Caddesi, no. 20B, Fatih/İstanbul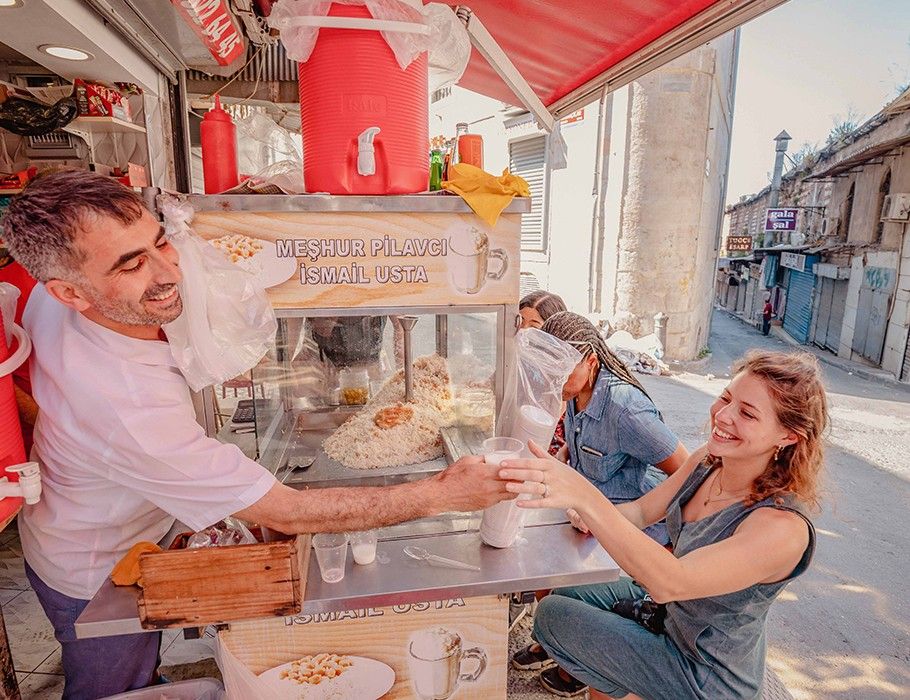 2. Balık Dürüm (Fish Wrap)
Perhaps you've read about the famed boats selling balık ekmek (fish sandwiches) on the Eminönü side of the Galata Bridge. While the experience might be fun, you'll likely get fed up picking bones out from the average-quality fish. The first time I visited Turkey, it was such a hassle it ended up in the bin, and I felt guilty. Instead, try balık dürüm (fish wraps) on the other side of the bridge. Usually made with uskumru (mackerel), the pros debone the fillet on the grill and then roll it in lavaș (a thin wrap) with lettuce, onion, tomato, fresh spice mixes and a generous squeeze of pomegranate molasses. Eat to go or on the side of the road with complimentary pickled chillies and şalgam suyu, a salty, fermented drink made from turnips and carrots that's an acquired taste.
Try it at: Meşhur Balıkçı Mehmet Usta – Kemankeş Karamustafa Paşa, Mumhane Caddesi, no. 37B, Karaköy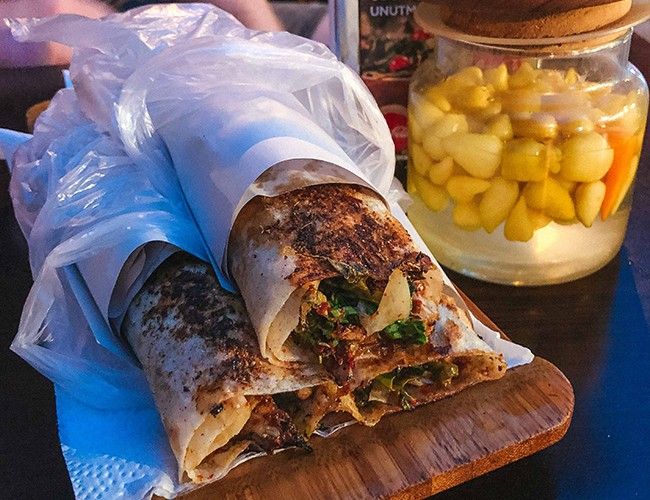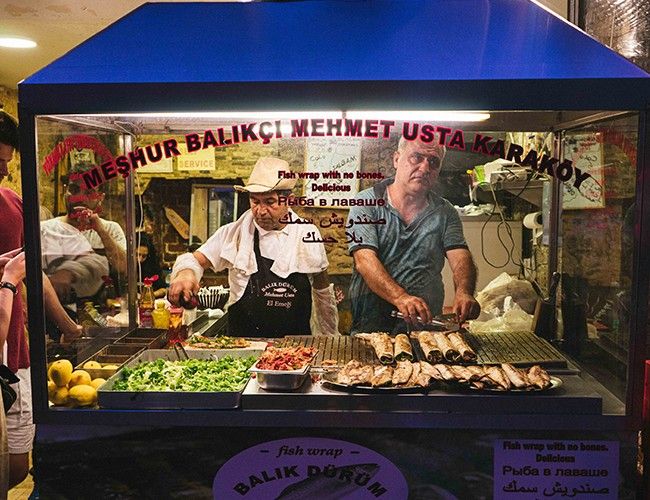 3. Çiğ Köfte (Raw  "Meatballs")
Çiğ köfte was originally made with raw meat, but the local authorities banned selling it in 2009 to prevent food poisoning. Now you'll only find the traditional version in homes, but it's still made and sold using bulgur wheat, onion, spices (most notably blackish-red sun-dried Urfa biber, also known as isot pepper) and lots of lemon juice. You have two choices: eat it smeared on dürüm with pomegranate molasses, tomato, shredded lettuce and parsley or order it by itself with lettuce leaves and enjoy taco-style.
Try it at: Biçen Kuruyemiş – Asmalı Mescit, Dudu Odaları Sokak no. 2B, Beyoğlu/İstanbul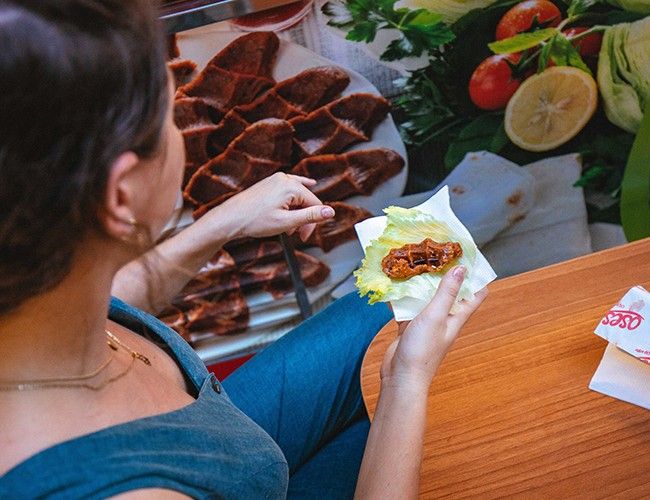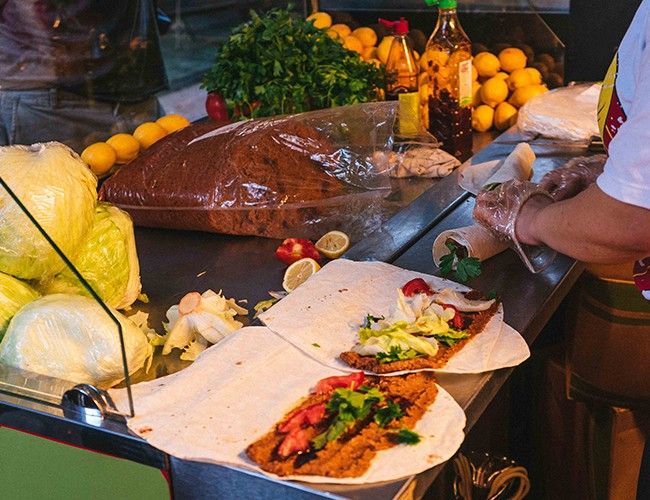 4. İçli Köfte (Deep-Fired Bulgur Meatballs)
These football-shaped, cracked bulgur meatballs come deep-fried stuffed with minced meat, spices, herbs and nuts. They're crisp and golden on the outside but have a soft consistency, the shell forming a texture similar to the casing of a son-in-law egg. They're also known as kibbe and can come with ground beef, lamb, goat or camel. The spot recommended below is a cart out the front of a restaurant, founded by a man called Ali Bey. He moved to Istanbul from Kahramanmaraş in Turkey's southeast after the family wheat farm went bust. It was his wife's idea to sell her popular İçli köfte. The couple's children now run the stand and restaurant.
Try it at: Sabırtaşı Restoran – Asmalı Mescit, İstiklal Caddesi no. 112, Beyoğlu/İstanbul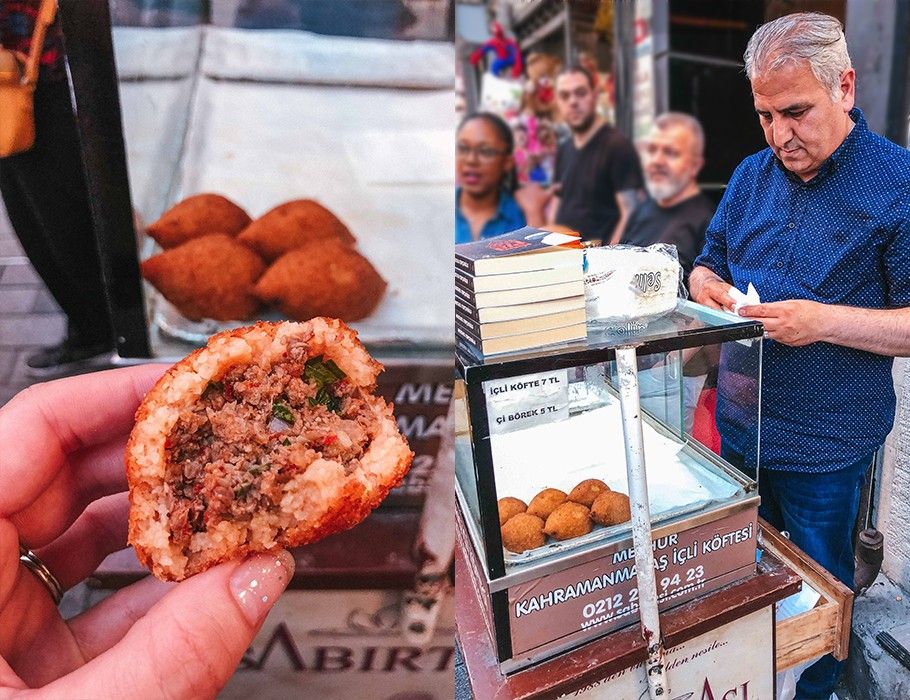 5. Islak Burger (Wet Burger)
Don't judge a street snack by its name, because the wet burger, particular not just to Istanbul but to Taksim Square, is the local drunk food of choice. These garlicky, burger-sloppy-Joe hybrids are piled up in glass displays sweatier than a hamam on a hot day. Cooked in milk and garlic, they're extremely soft and meticulously seasoned with more than a dozen herbs and spices. To finish, the steamed white buns are slathered in garlic, tomato and yoghurt sauce. They're smallish, so you can manage more than one – especially after a night on the town.
Try it at: Taksim Barış Büfe – Sıraselviler Caddesi no. 2, Beyoğlu/İstanbul or;
Kızılkayalar – Sıraselviler Caddesi no. 2C, Beyoğlu/İstanbul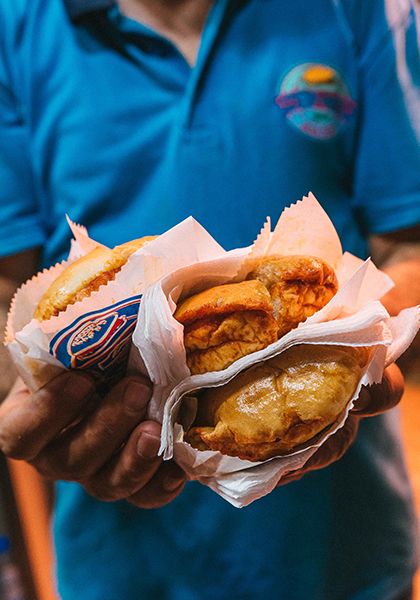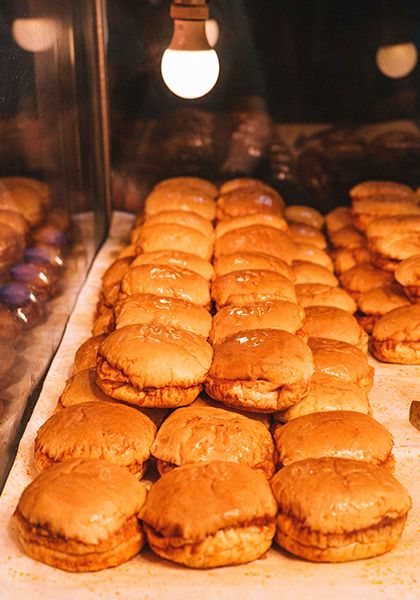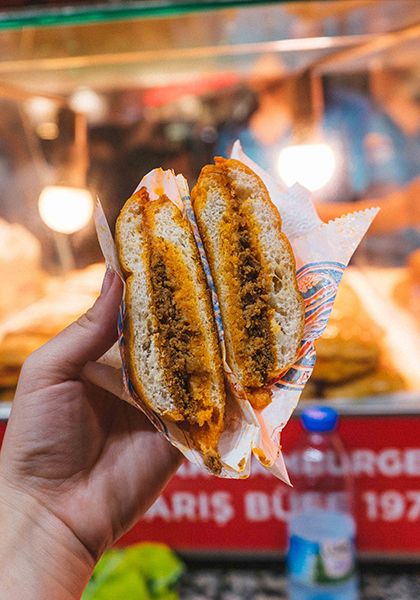 6. Kokoreç (Lamb Offal Sandwich)
If you can get your head around the fact you're eating lamb sweetbreads, heart, lung and kidney wrapped in intestines, you're in for a serious treat with kokoreç. It's cooked over charcoal on a horizontal spit, which results in an incredibly tasty char. Vendors slice off chunks of meat and then chop it into tiny pieces on a grill (Istanbul-style) or serve it sliced (İzmir-style). The medley of organs results in textures and tastes that dance between crackling-crisp, tender, rich and oily. It has Greek origins (see kokoretsi) and is traditionally an Easter dish. Order it on a warm white roll or with bread on the side.
Try it at: Mercan Kokoreç – Hüseyinağa Mahalle, no. 5/A 4/A 4/B, Beyoğlu (multiple branches) or;
İzmir İşi – corner Karaali Kaptan Sokak and Mumhane Caddesi, Karaköy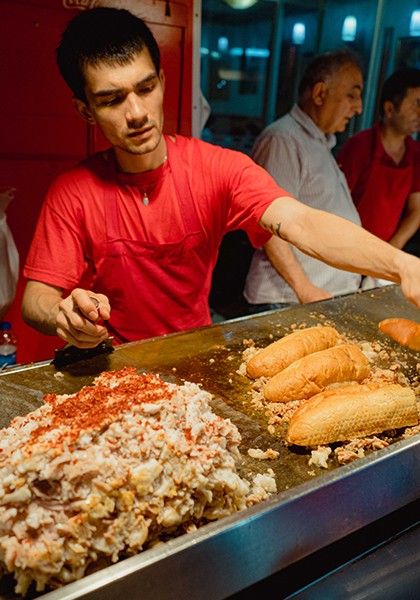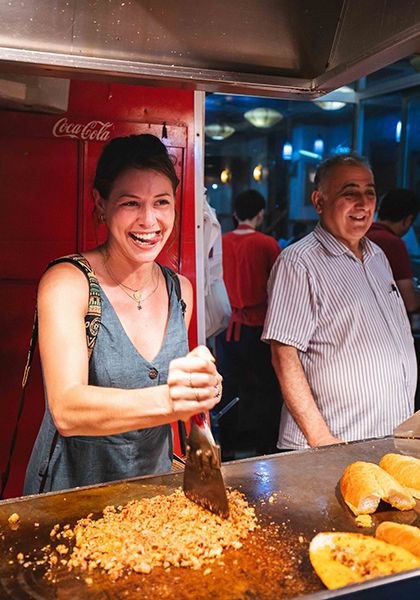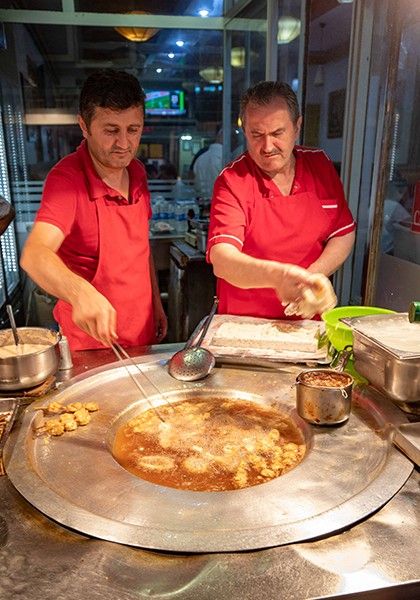 7. Midye Dolma (Stuffed Mussels)
Found just about everywhere in Istanbul, these mussels are stuffed with rice, spices (including cinnamon, garlic, pepper and sometimes with pine nuts and currants. They're served on the shell with a wedge of lemon and are a popular snack. Make sure they're fresh; mussels and rice sitting out in the sun for hours won't do your gut any favours. If you're nervous, late-night restaurants serving kokoreç often have trays of freshly prepared midye dolma. Stand beside them and help yourself, collecting the shells so the vendor knows how many you've had when it's time to pay. Also try midye tava, battered mussels fried on a skewer until crunchy and golden.
Try it at: the kokoreç places mentioned above, around Taksim Square, Eminönü or Karaköy.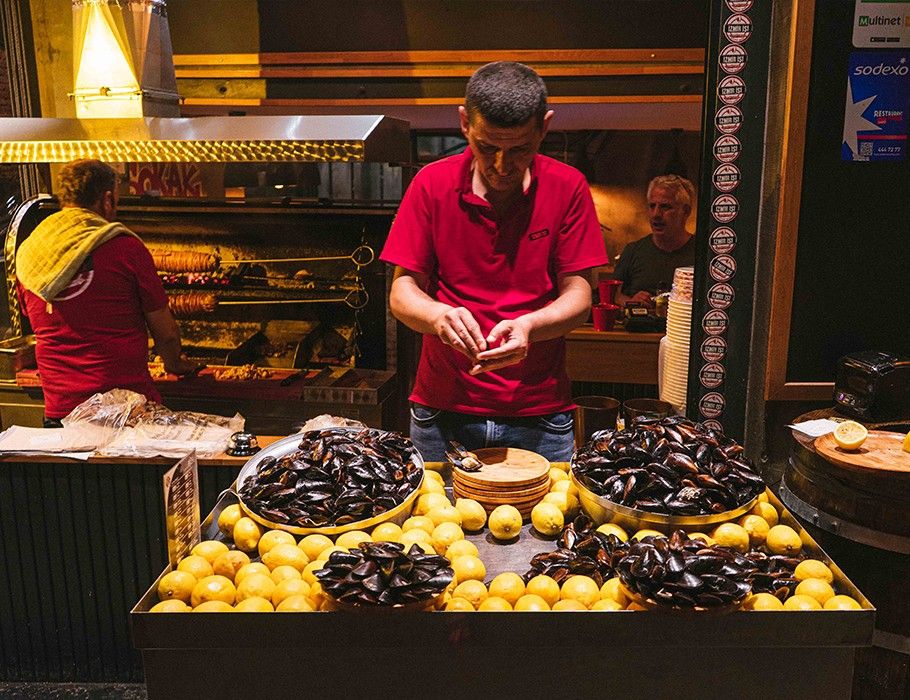 Sofia Levin travelled with assistance from Intrepid Travel, but this article was researched and published independently. For small group, food-focused tours to Turkey, click here.
Around the World in 80 Lesser-Known Melbourne Restaurants
FREE food guide when you subscribe.