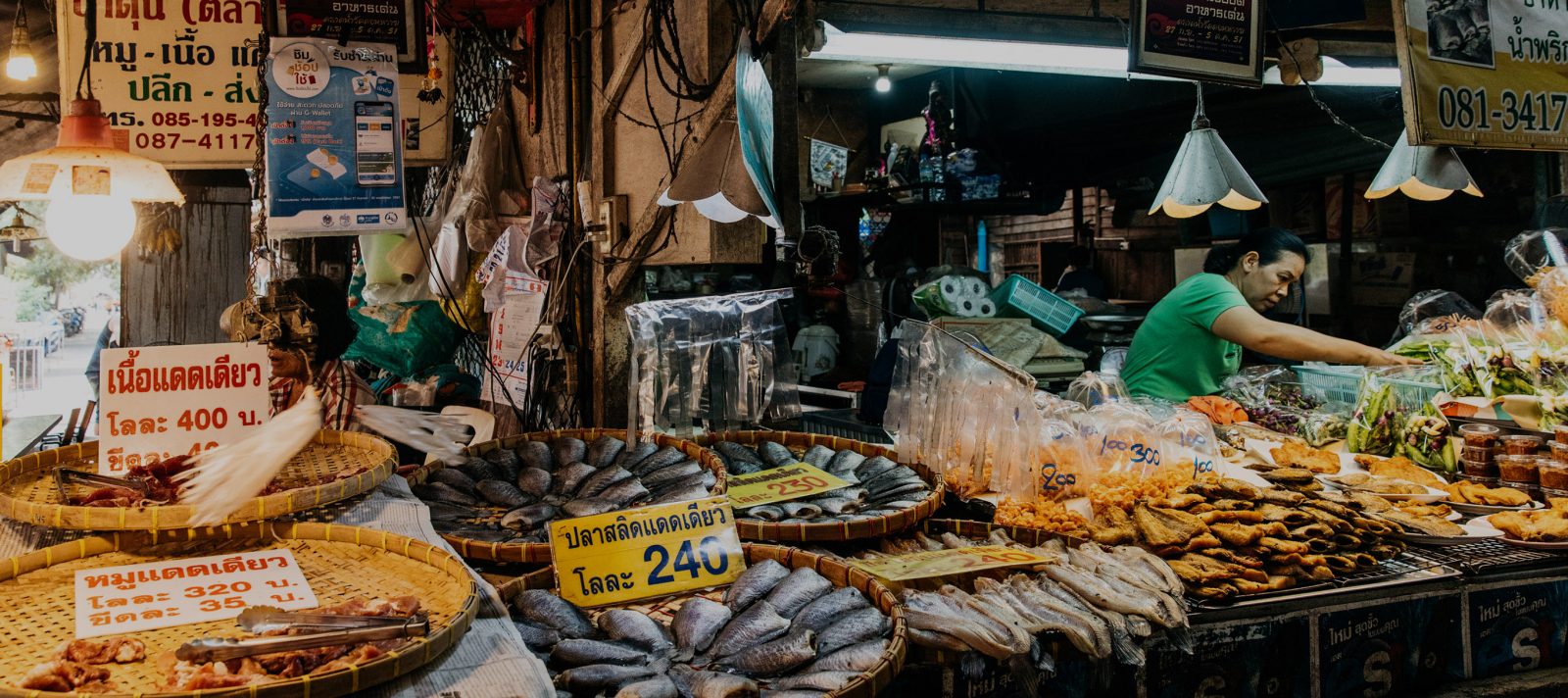 Don Wai Market, Nakhon Pathom
Everything I Ate at Don Wai Floating Market, Bangkok
Words by Sofia Levin
Images by Kitti Gould & Sofia Levin
From the best duck noodles to sticky dried clams, Don Wai is Bangkok's ultimate market for food lovers.
I'm unsure whether to start this article by telling you about the most interesting fruit or the best congealed blood I've ever eaten. That's what struck me most about Don Wai Floating Market – you'll find something to eat regardless of how adventurous you are. I'll tell you about both the fruit and blood, but let's start with the market.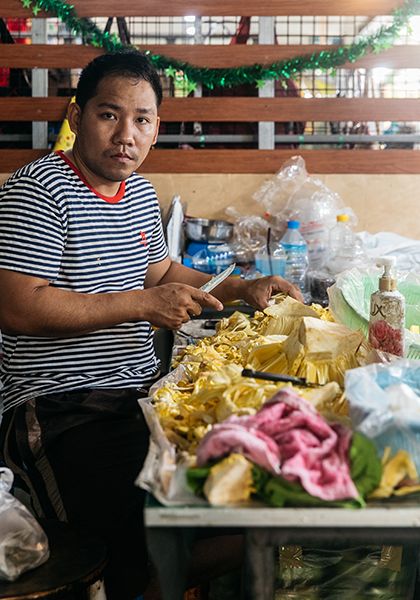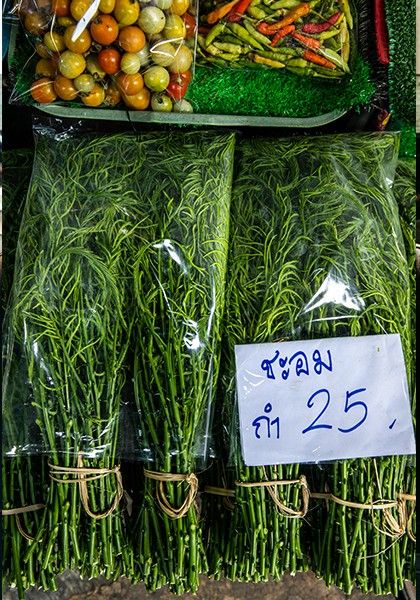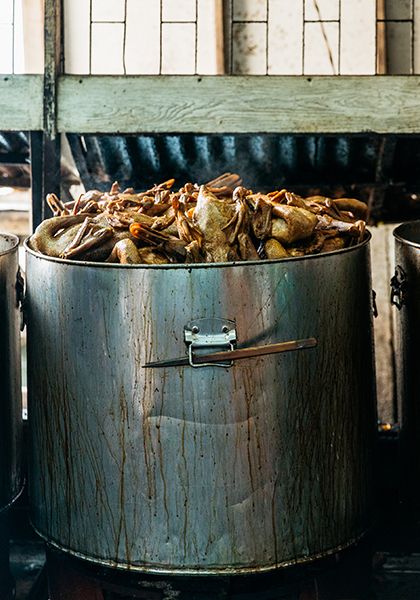 "...the air becomes heavy with the scent of caramelised meat. Moo ping (pork skewers) are grilled, pork and duck barbecued and tongues and gizzards laid out in shallow Styrofoam boxes to eat on the go."
When you hear the phrase "floating market" in Thailand you expect a network of canals cluttered with wooden boats selling produce. That's not Don Wai, at least not anymore. Set on the Tha Chin (aka Tha Jeen) River in Nakhon Pathom province about 30 kilometres west of Bangkok, fruit traders used to sell from boats in the early 20th century. Without the spectacle, and thanks to it being a 40-minute journey from central Bangkok, tourists often miss out on visiting Don Wai Market. It's possible to take a bus there, but less hassle to hail a metered taxi (around 400 baht, or $20 AUD). For the river experience, domestic and international tourists pay around 80 baht for a one-hour boat ride, snacking on their market haul as they go.
From the car park you pass a temple and incense prayer station to enter the fresh produce section. Someone dissecting jackfruit might hand you a firm yellow seed with a smile as you browse rows of beautifully presented roots, herbs and vegetables. Lotus stems are curled like nature's extension cords. Hummingbird flowers, dok kae, have petals that look like fat white beans, while chom cham moonflowers – named because they bloom at night – are tightly twisted shut like perfect, pale green soft serves. Pearl garlic with heads no bigger than ping-pong balls are stacked beside bunches of Siamese neem with minuscule white buds, eaten with flavoured sugar and salt mixtures to mask the bitterness and, supposedly, improve your skin.
Continue on and the air becomes heavy with the scent of caramelised meat. Moo ping (pork skewers) are grilled, pork and duck barbecued and tongues and gizzards laid out in shallow Styrofoam boxes to eat on the go. You'll pass the duck noodle soup restaurant on your right and be forced to turn left, where the market narrows to a path of rickety wooden boards with stalls set up on either side. On the corner a woman sells dried and preserved molluscs and fish from towering piles, giving way to tables offering khanom wan (Thai desserts), edible seaweed, coffee, salty braised tom khem whole fish and more.
I visited Don Wai Market twice, the first time with chef Thaninthorn "Noom" Chantrawan of Chim By Siam Wisdom restaurant, known for competing on Iron Chef Thailand, his wife and mother; the second with Palisa Anderson and her team from Chat Thai and Boon Luck Farm in New South Wales, Australia. Having people with me who spoke the language was invaluable, but if that's not possible, my advice would be to eat absolutely everything – whether a sample (there are plenty), an unknown piece of fruit or vegetable that catches your eye or anything else. Here's a small selection of what I ate.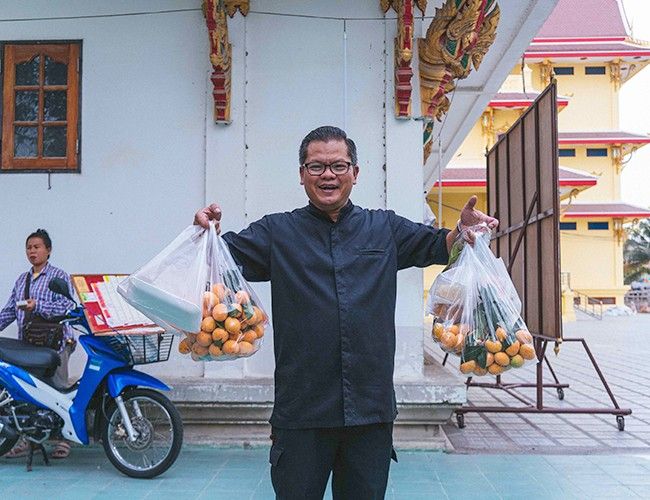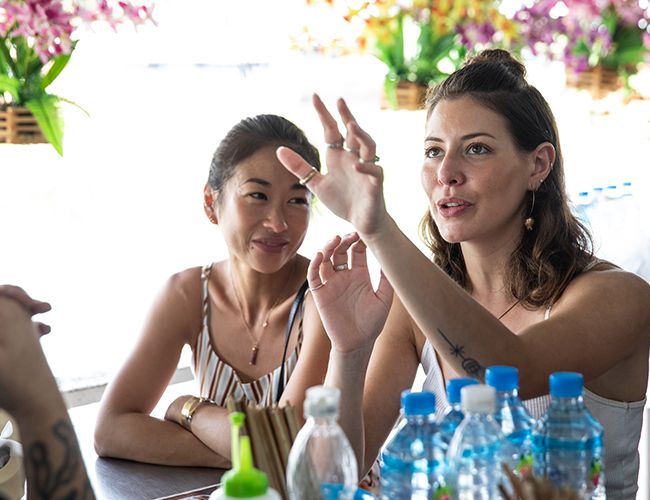 Dishes
Duck noodle soup – eaten from the last shop on the right overlooking the river, just before you turn left to the narrow, undercover part of the market. It's numbered 20/1 and has a sign reading Ped Palo Nai Nub. You'll see the ducks out the front and photographs plastered everywhere, a testament to its popularity. We also ordered a couple of versions of hor mok (steamed fish curry custard) and plates of stewed duck blood, gizzards and liver. You can read more about the restaurant here.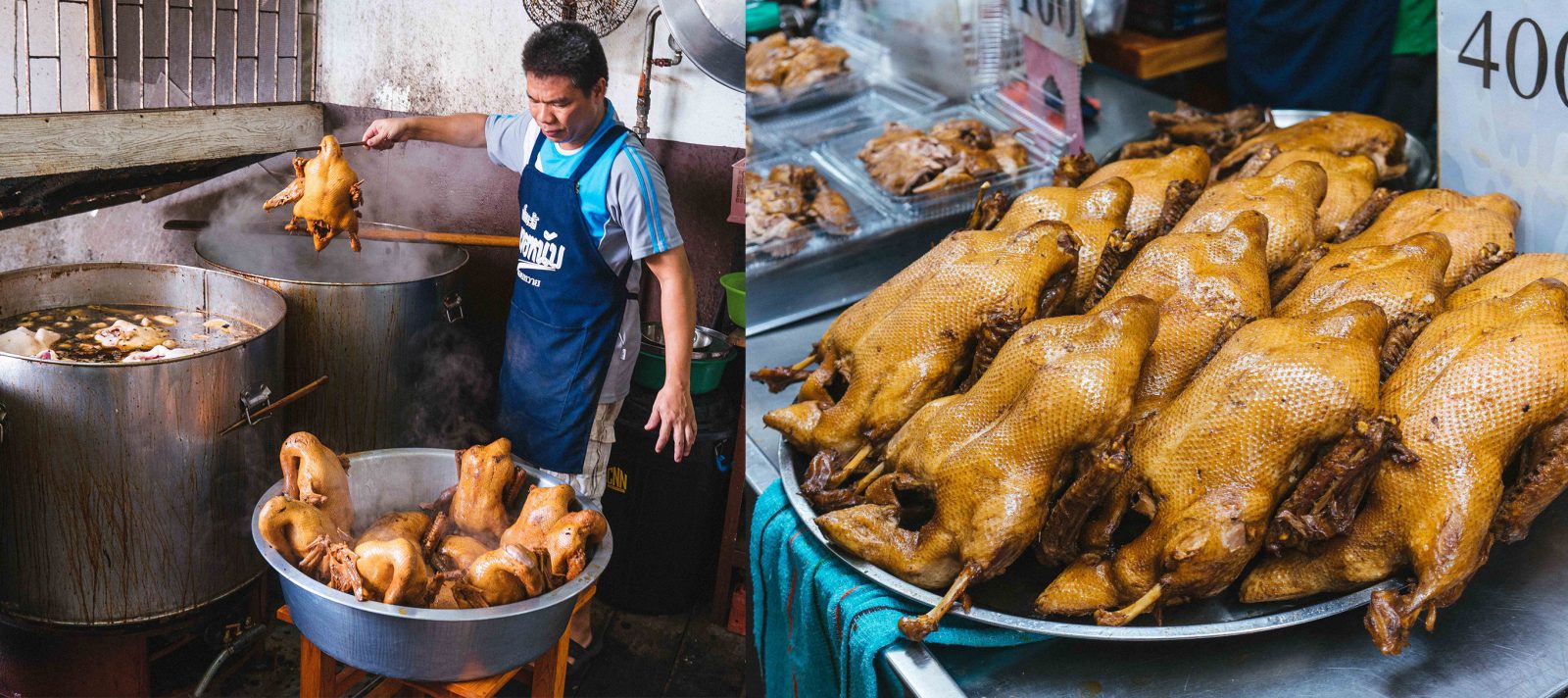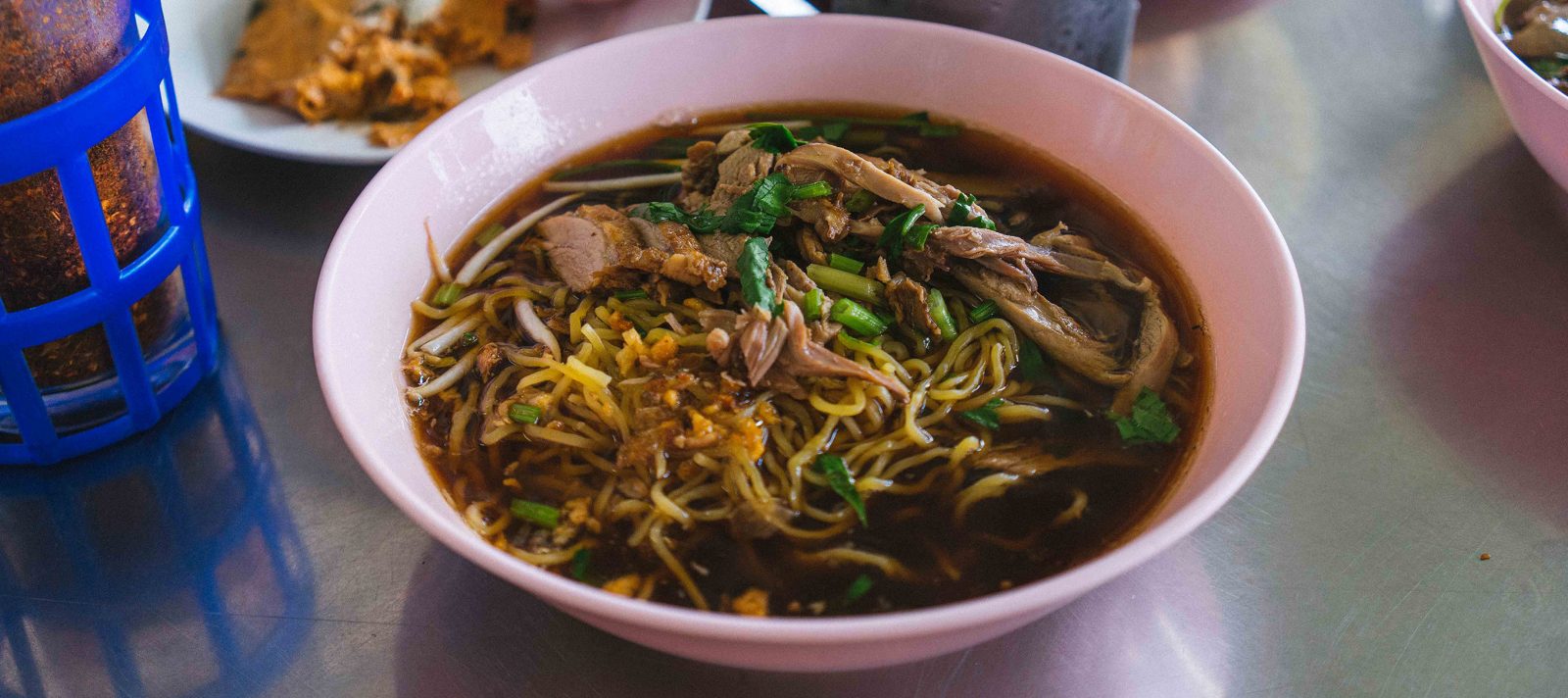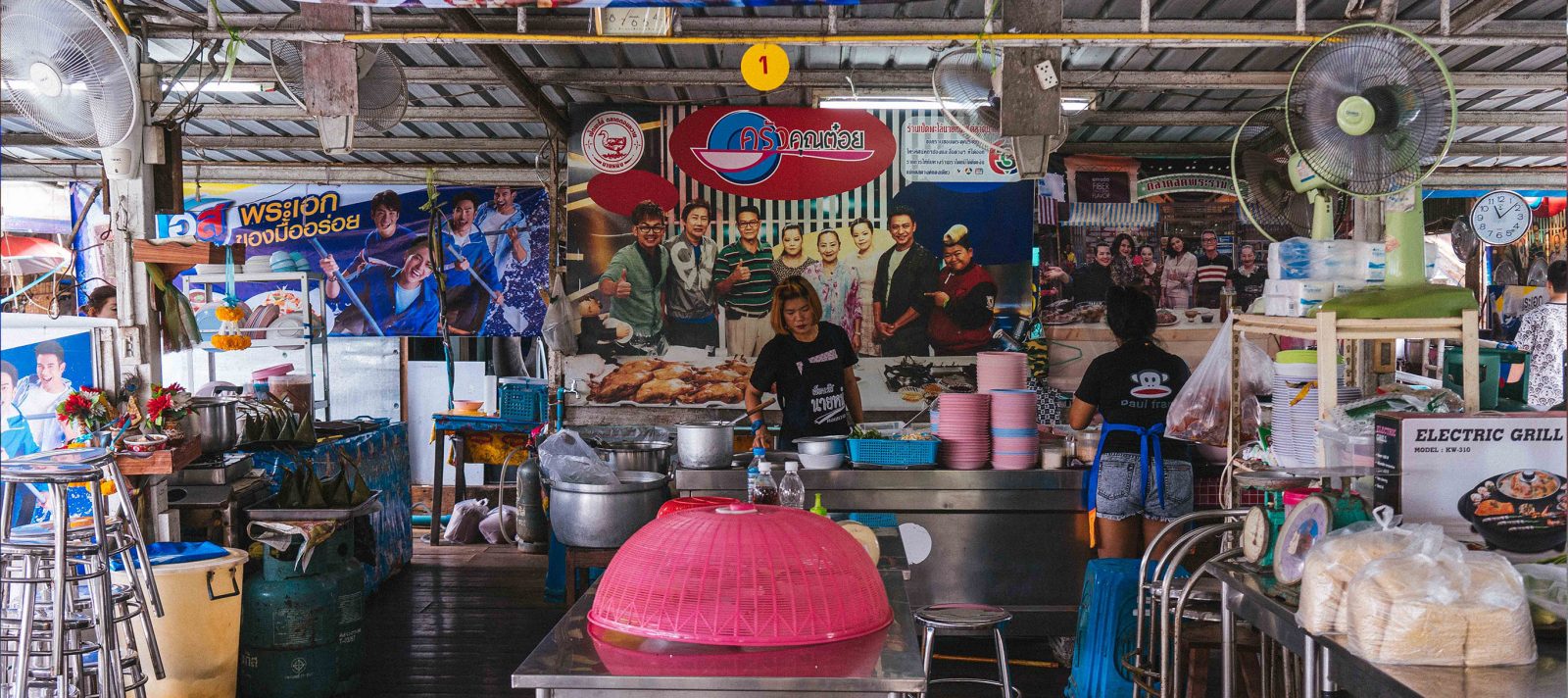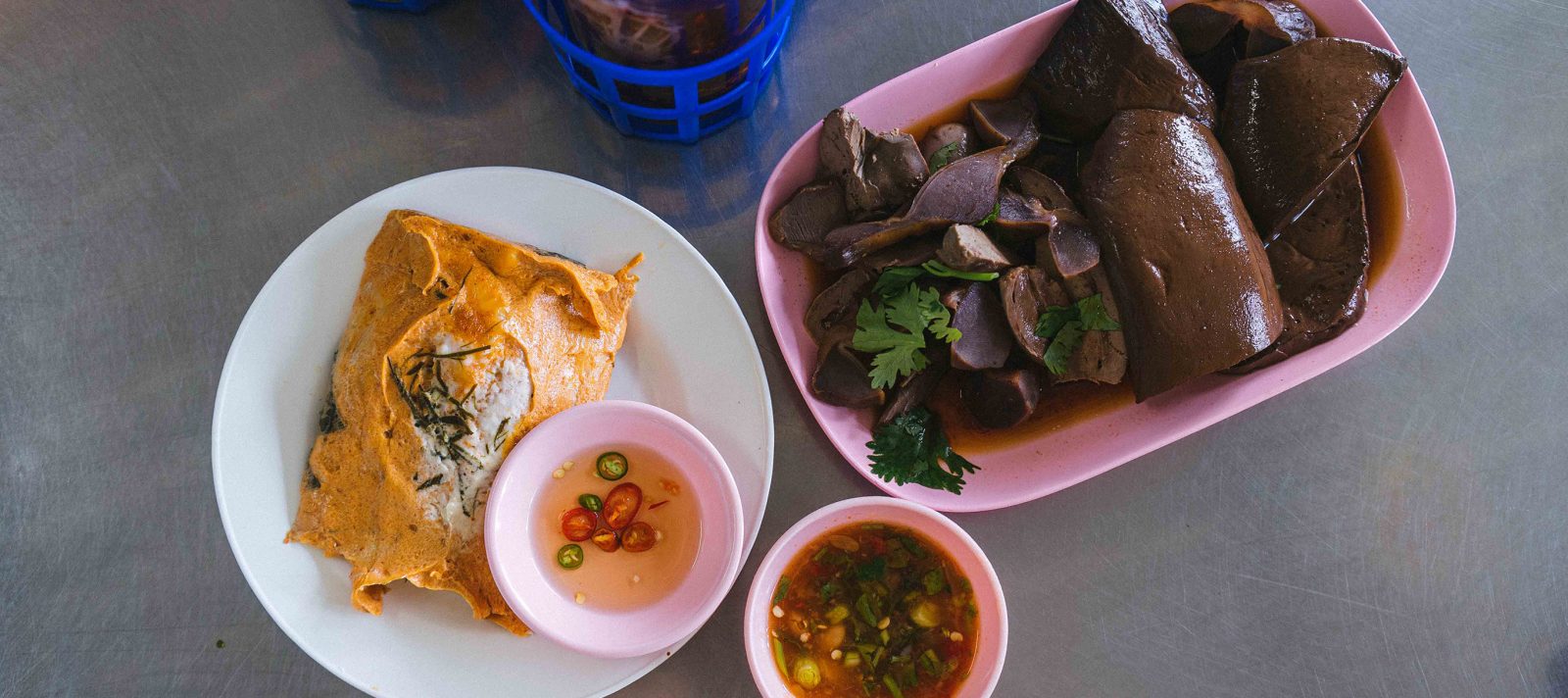 Fruit
Pomelo with dipping salts – these big, green bowling balls of fruit are displayed in towers. Just about every local seems to buy them, but they also come in perfect segments, cling wrapped and ready-to-eat. It's genuinely difficult to stop eating them. They're somehow dry to the touch but juicy with every bite, the tiny vesicles bursting like caviar. For 10 baht, you can grab a number of dipping salts, all laced with sugar and some with chilli and others with shrimp or sour plum. I recommend one of each.
Marian plums – I would have walked right past this fruit, were it not for chef Noom. He was instantly excited when he saw them as they're only available for a few months of the year. To me they looked like apricots, but depending on whether you buy the sweet or sour variety, they taste like mangoes at different stages of ripeness.
Fragrant rose apple – I've tasted pear-shaped red rose apples before and enjoyed the crunch but been underwhelmed by the flavour. These, although closely related, are entirely different. They look halfway between a peeled onion and apple (Google syzygium jambos) and again, I would have walked right past them. This time I have Palisa to thank. They have the same, fresh crunch as the rose apples I've eaten in the past, but taste identical to rose water – like eating Turkish delight without the sickly saccharine quality.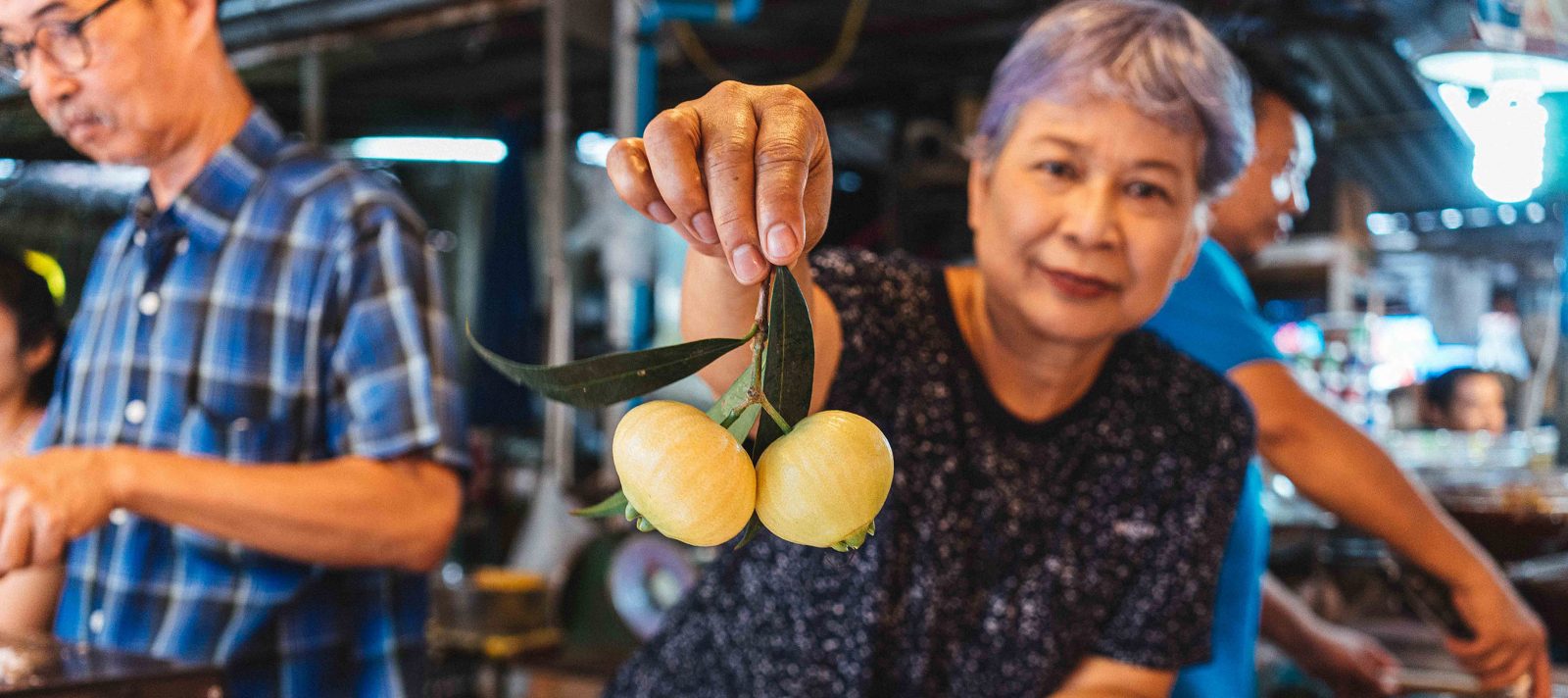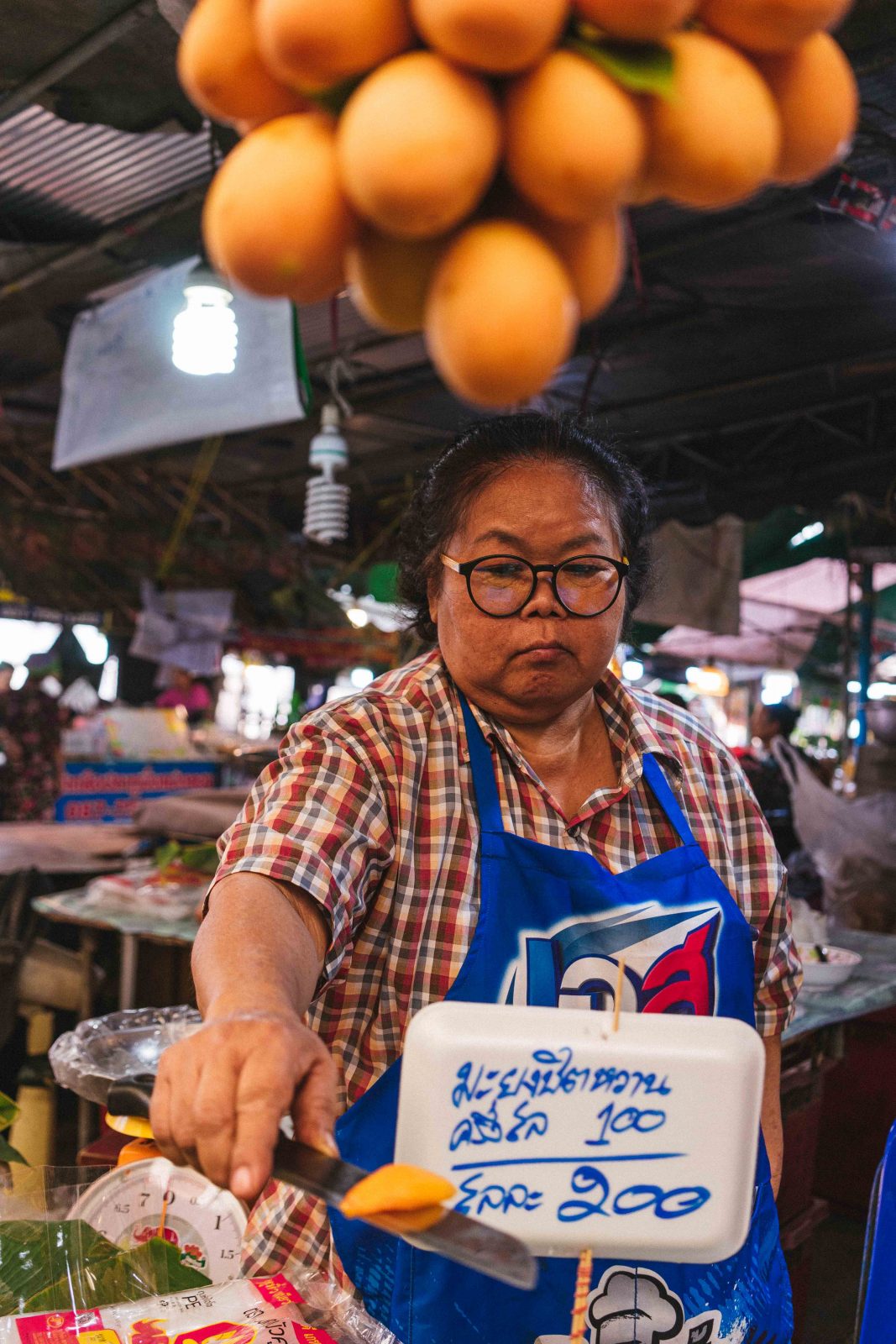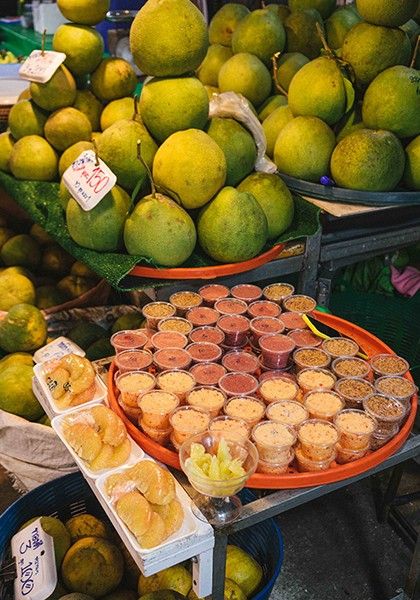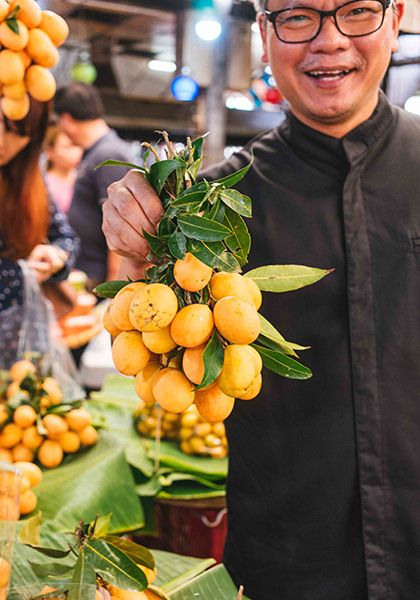 Snacks
Sea grapes – known as the caviar of the sea, I fell in love with sea grapes in Tokyo and subsequently learn that they're farmed in parts of Australia, too. Still, it's rare that you'll come across them at home, especially not for 50 baht ($2.50 AUD) so I jumped at the opportunity. They pop in your mouth with oceanic bursts and are even better dipped in the accompanying green chilli, garlic and lime sauce.
Sun-dried clams – the selection of sticky, sun-dried clams available is mind-boggling. My favourite are the elongated razor clams, but all are pretty pungent. Some are sweet, others more acrid or rolled in chilli. There are samples aplenty, so if the taste or smell is overpowering, you don't have to commit to a bag.
Boiled sweet corn – I've never loved eating corn off the cob. Bits get stuck in your teeth and it's a real drag. The pale, boiled sweet corn you'll find at markets like Don Wai and on the streets is a different story, sweet without the need for butter and salt and so soft you can nibble on the top of the cob when you're done.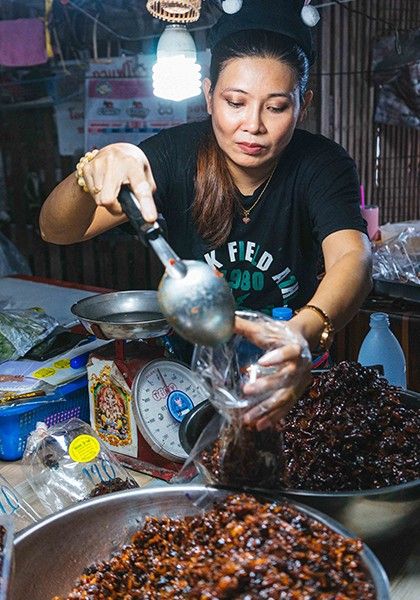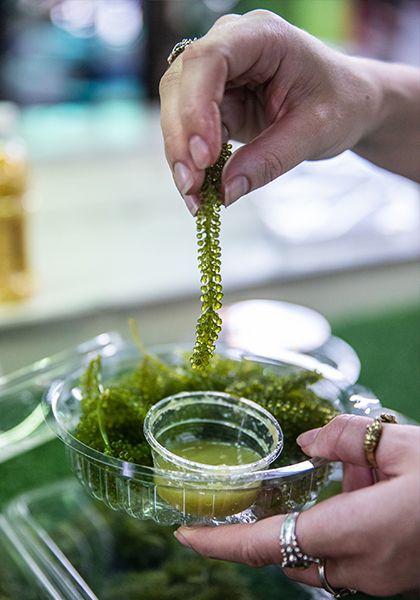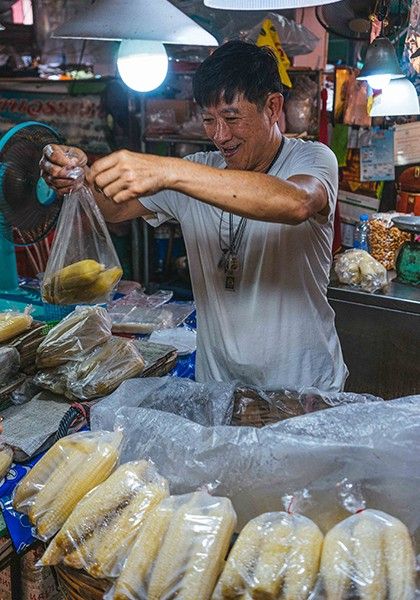 Desserts
Kanom paeng jee – little pancakes made with freshly grated coconut, coconut milk, palm sugar, eggs and usually rice flour. At Don Wai, the vendor makes them thick and spongy.
Sugared egg-yolk desserts – you'll spot these Portuguese-influence bright yellow, sugary desserts in all their forms. They're made using egg yolk and sugar syrup and include small balls (tong yord), strands (goi tong), jackfruit seeds (med khanoon) and little pinched flowers (thong yip), among others. They taste more or less the same.
Khanom gluay – steamed, jelly-like banana pudding topped with shredded coconut, sometimes made in a little dish and sometimes wrapped in banana leaf.
Khanom krok – coconut pudding disks that are more like pancakes made with coconut milk, rice flour and sugar. The pan they're made in reminds me of the one used for poffertjes (Dutch pancakes).
Khanom thuay – floppy coconut puddings made from coconut milk, rice flour and sugar steamed in shallow ceramic dishes. Warm, wobbly and wonderful.
Itim kati – also known as coconut ice cream. Maybe it's because they use fresh coconut milk and natural sugar, maybe it's because it's so muggy, but damn – it's up there with the best I've tasted.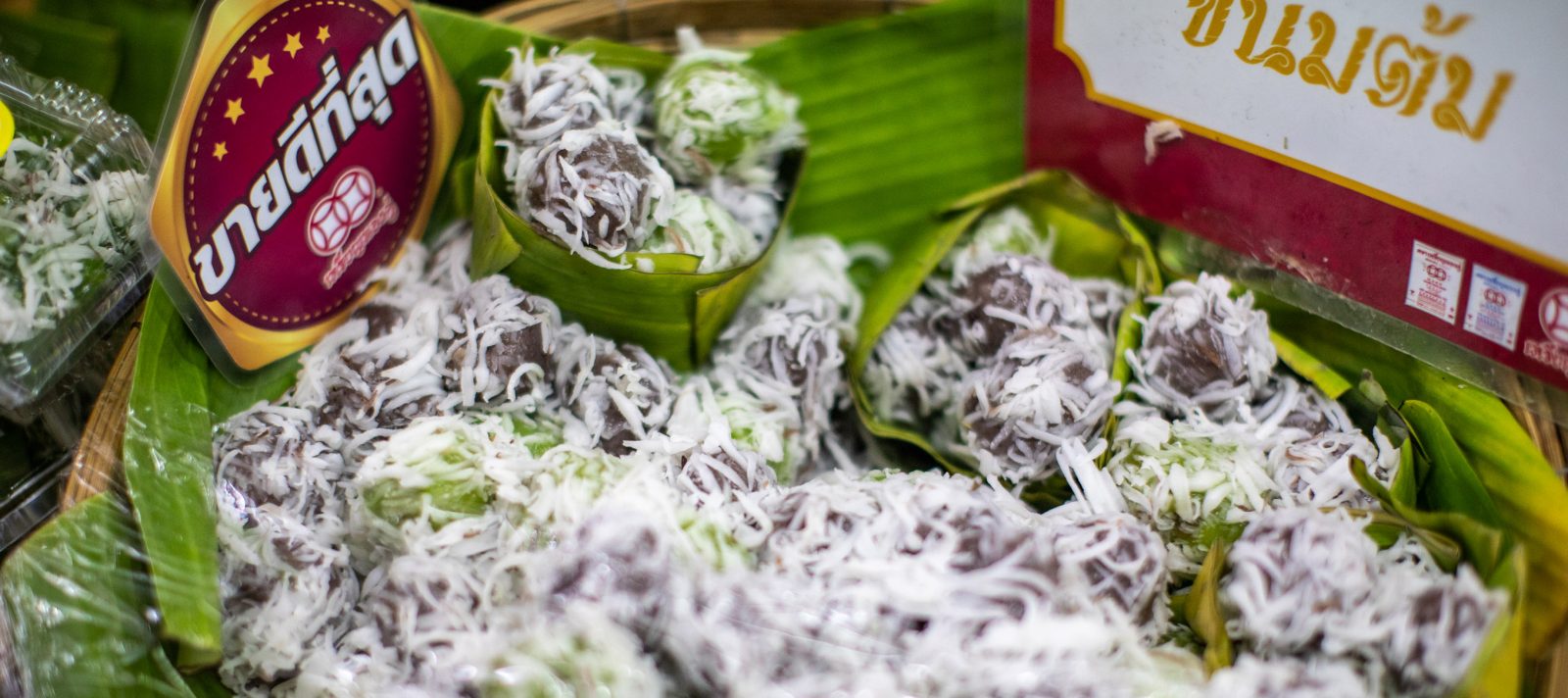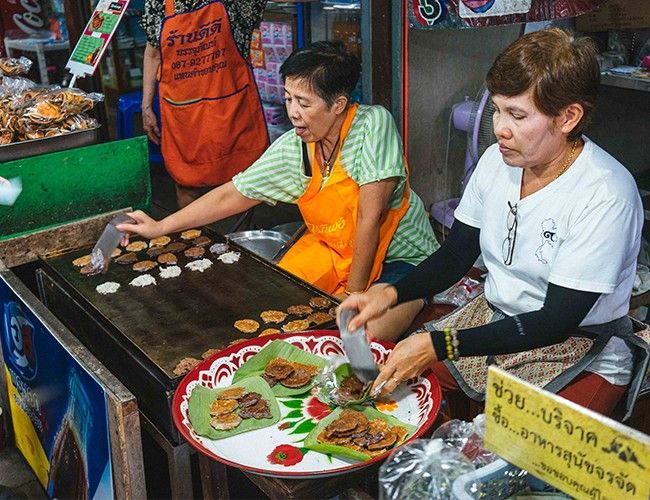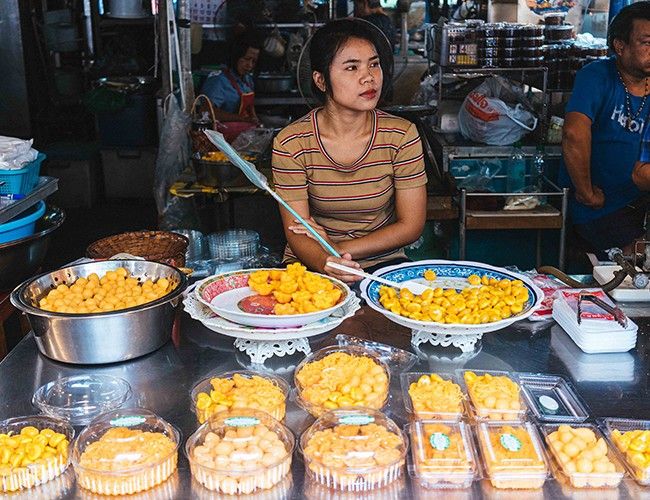 Around the World in 80 Lesser-Known Melbourne Restaurants
FREE food guide when you subscribe.