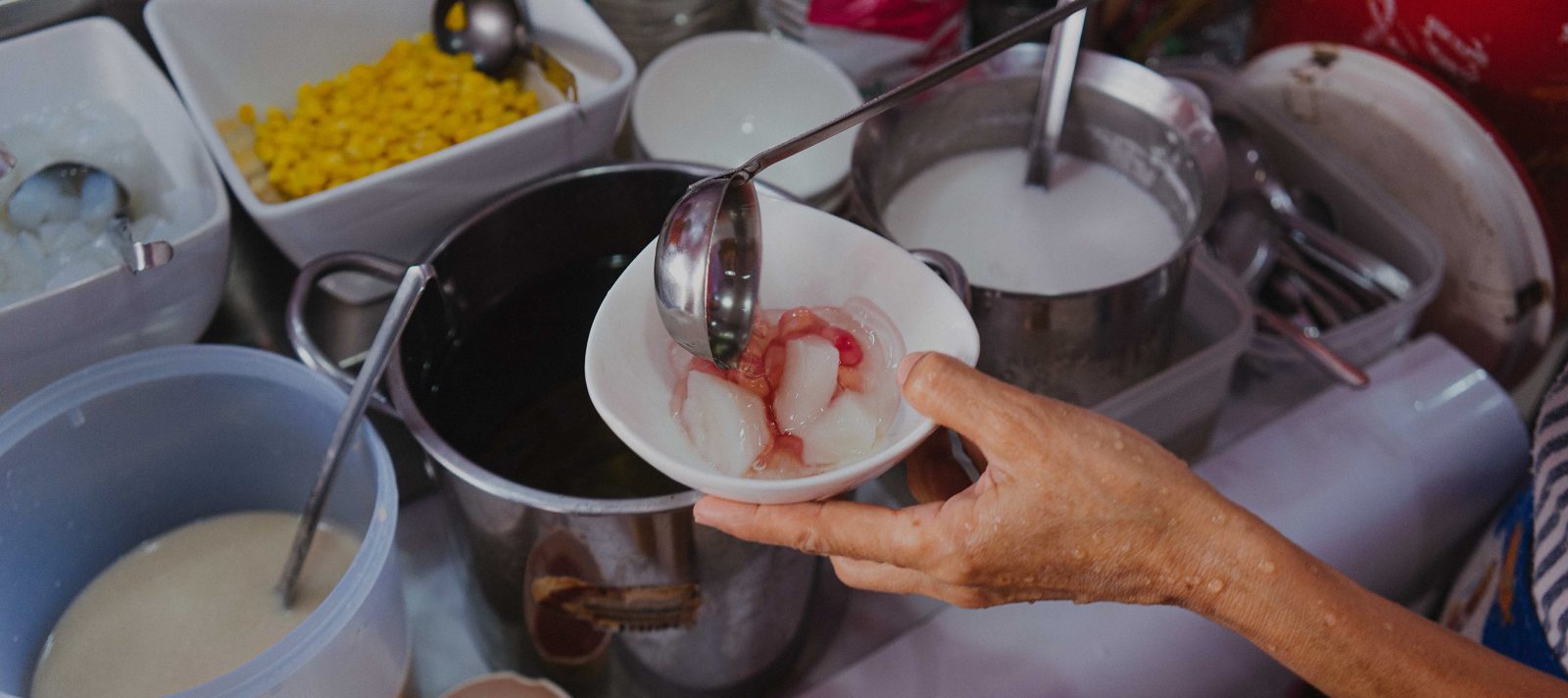 A Self-Guided Dessert Walking Tour through Central Bangkok
Words & images by Sofia Levin
Justify your traditional Thai sweet education by taking this 3.9km self-guided dessert walking tour.
Thai Desserts are wondrous, texture-filled dishes that are always greater than the sum of their parts. Each makes use of readily available ingredients like exotic fruits, coconut milk, sticky rice and tapioca starch and never tone down the local love of sugar. Like much of Thailand's food, traditional desserts are heavily influenced by Chinese migration. This 3.9km self-guided dessert walking tour will take you 2.5 hours and land you in lively Chinatown. You'll make five stops in total, trying the most popular and best Thai desserts, then working off each with a casual stroll in between vendors. To successfully visit all of them, follow the order of this list and start at 3.30pm Monday to Friday (the second last stop closes at 2pm on Saturday and doesn't open again until Monday). Hope you packed a toothbrush.
Stop 1. Bok Kia Hainan Dessert Soup
This lesser-known Thai dessert is a Hainanese import. The main ingredients are sweet noodles – thin, long and yellow or squatter and white – lotus seeds, red beans and syrup made from brown sugar or longan. Thai influences include glutinous rice triangles, ginko nuts, toddy palm seeds and jellies. Beside the Samsen Road bridge that crosses the river, there are stairs down to Chao Pho Nu Shrine. Right on the river is a humble bok kia cart that's been run by two women for a couple of decades called Kanom Bok Kia. If you're struggling to find it, copy "โบ๊กเกี้ย สูตรโบราณ Bangkok" into Google.
Kanom Bok Kia: 2 Samsen Road, Ban Phan Thom, Phra Nakhon, Bangkok, open daily 10.30am-4pm
Walking: 200m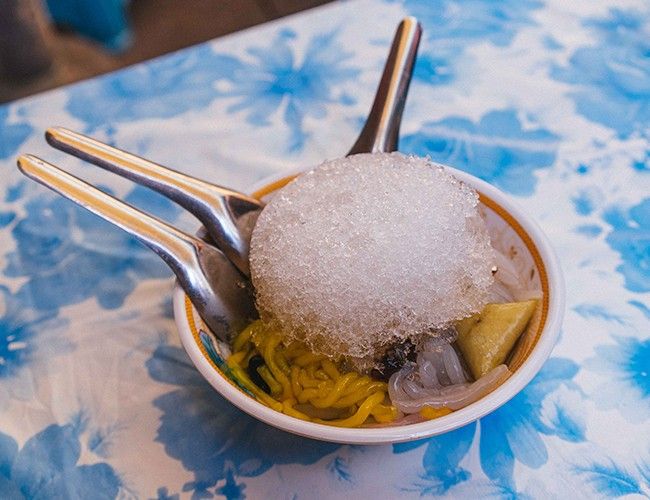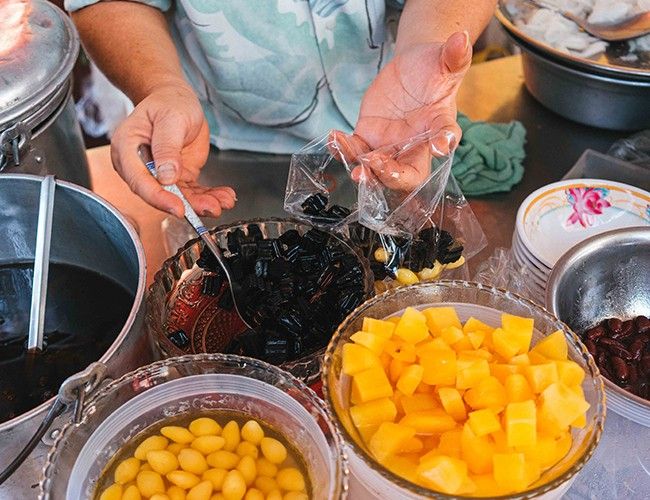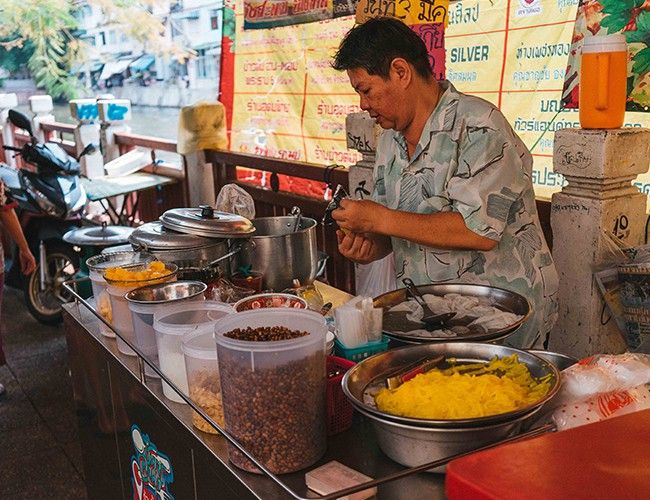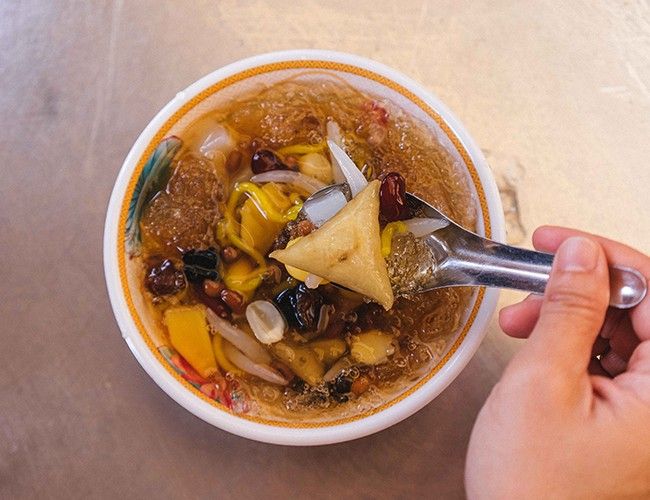 Stop 2. Tub Tim Grob  Red Rubies
You'll catch sight of this classic Thai dessert all over Bangkok, with it's pink kernels shimmering like pomegranate seeds. They're made from tiny cubes of water chestnut that have been coated in tapioca flour and coloured with food dye. They usually come served with crushed ice and coconut milk, but you can add extras like young coconut jelly, jackfruit, lotus seeds, candied fruit and more. Tub Tim Krob Siam is a small, understated shop with pink walls in busy Banglamphu, but they do a fantastic tub tim grob with plenty of add ins, including sweet, dehydrated cherry tomatoes. You can also get ruam mit (coconut dessert soup with jackfruit, toddy palm seeds and more) and salim (sweet, coloured mung bean noodles in coconut milk).
Tub Tim Krob Siam: 188 Soi Kraisi, Phra Nakhon, Bangkok, open daily 9am-6pm
Walking: 1.2km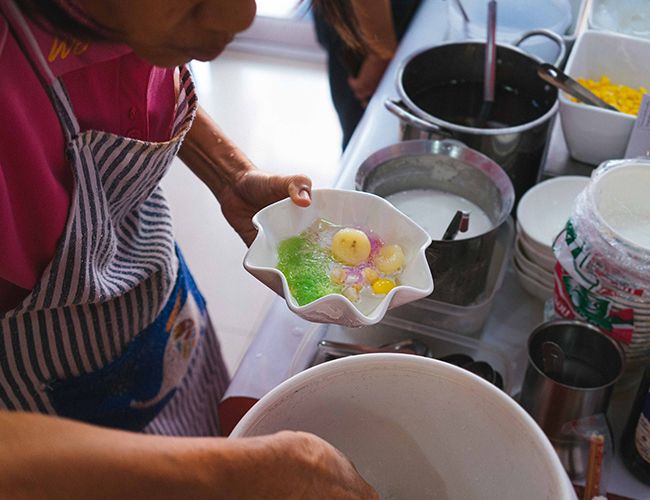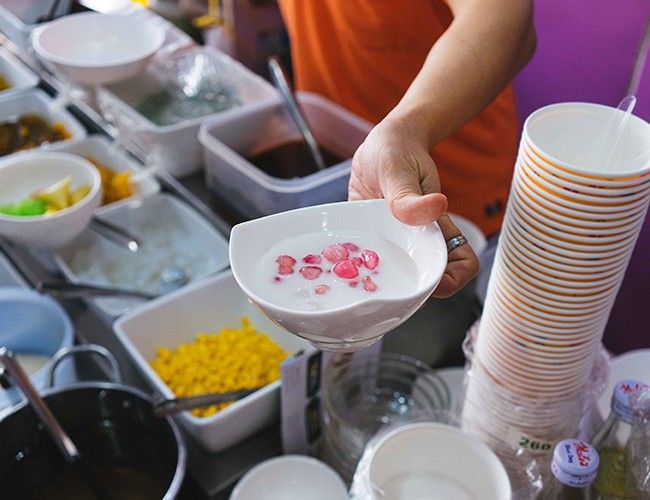 Stop 3. Khao Neow Ma Muang  Mango Sticky Rice
If I could eat one dessert every day for the rest of my life, it would be khao neow ma muang, sticky rice with mango. Kor Panich is Bangkok's most famous mango sticky rice vendor. The recipe, said to have originated with a family member who cooked in the Royal Palace, has been passed down over 80 years. Michelin recognises it with a Bib Gourmand award every year. Kor Panich uses a variety of sweet, firm Thai mango called nam dok mai, which is available all year but best from April to June. The glutinous rice comes from Chiang Mai in the north, a region known for producing some of the best. Pour the jug of coconut milk over the top and you're set. The shop also offers an option with durian and delicious, wobbly fruit and coconut milk jellies.
Kor Panich: 431-433 Tanao Road, Phra Nakhon, Bangkok, open daily 7am-6pm, facebook
Walking: 2.3km (or 8 minutes via Taxi or Grab app)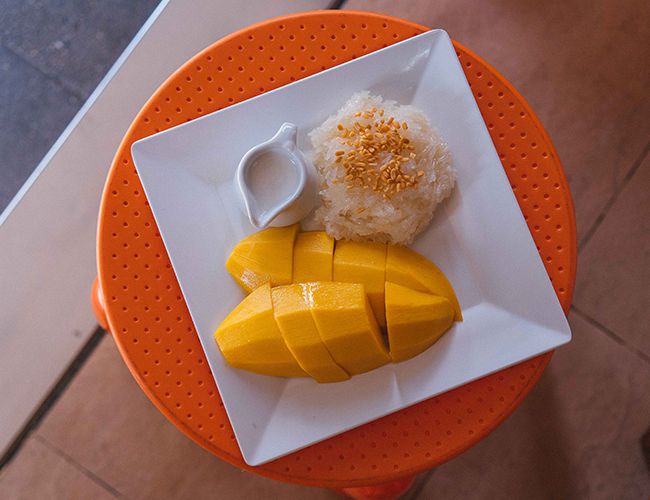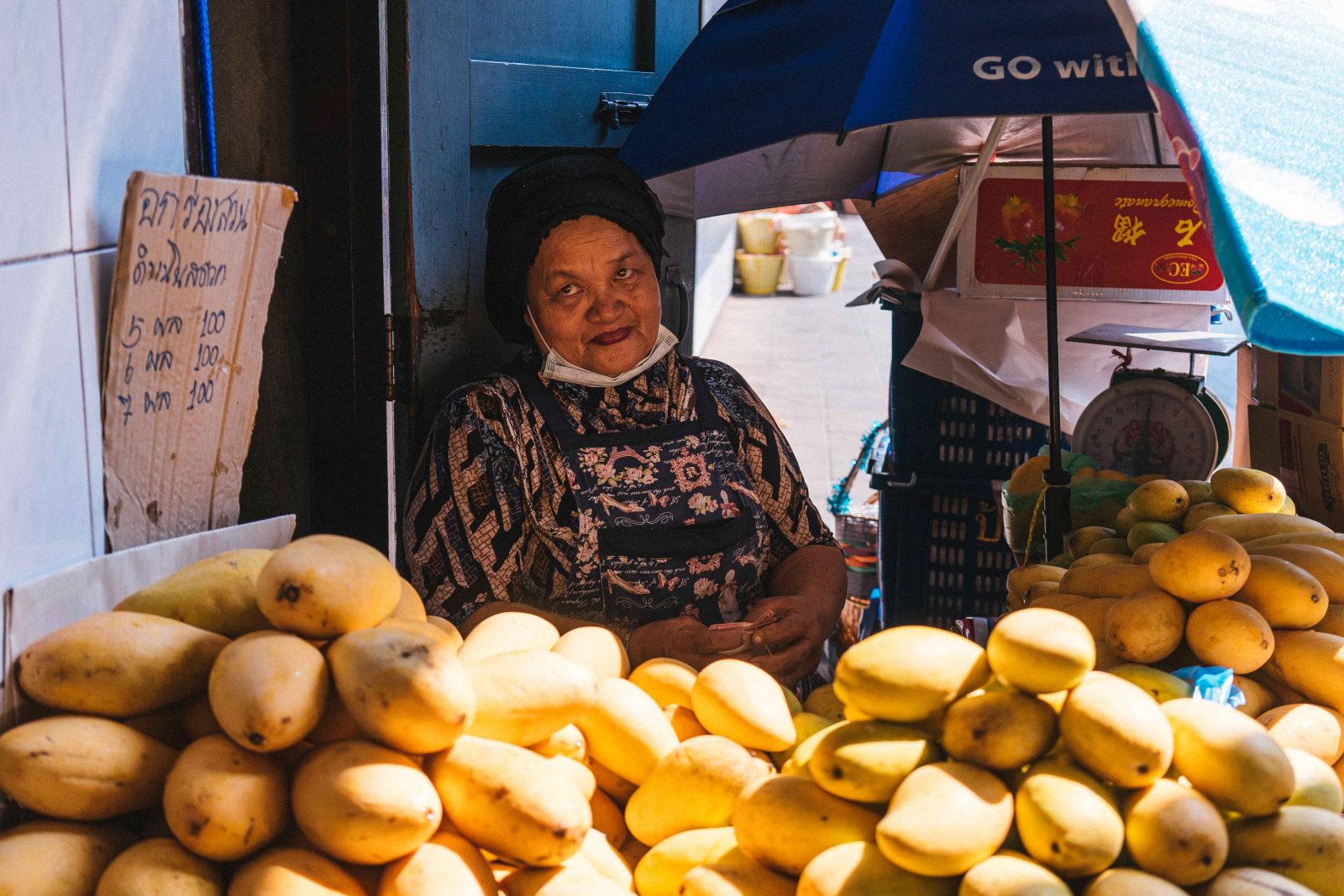 Stop 4. Mooncakes & Pastries
In the heart of Yarowat is a dessert store that's been around for the better part of 40 years, specialising in traditional Chinese and Hong Kong desserts. The owner hails from Hong Kong and runs the shop with his wife, while the next generation are in charge of branding and marketing. There's an array of mooncakes to choose from with a range of sweet or savoury fillings from mung been with pepper to lotus paste with salted egg yolk. Step inside and check out the specialty pastries, reserved for special occasions and royal parades. When I visited there were to-scale geese and lobsters made from bean paste and coated in sesame, as well as glazed pastry piglets filled with durian paste. Note the beautifully maintained shrine at the back of the shop – you can't miss it.
Hong Kong Si Nuyen Ha: 662 Charoen Krung Road, Samphanthawong, Bangkok, Mon-Fri 8.30am-8pm, Sat 8am-2pm, instagram.com/hongkongsi
Walking: 180m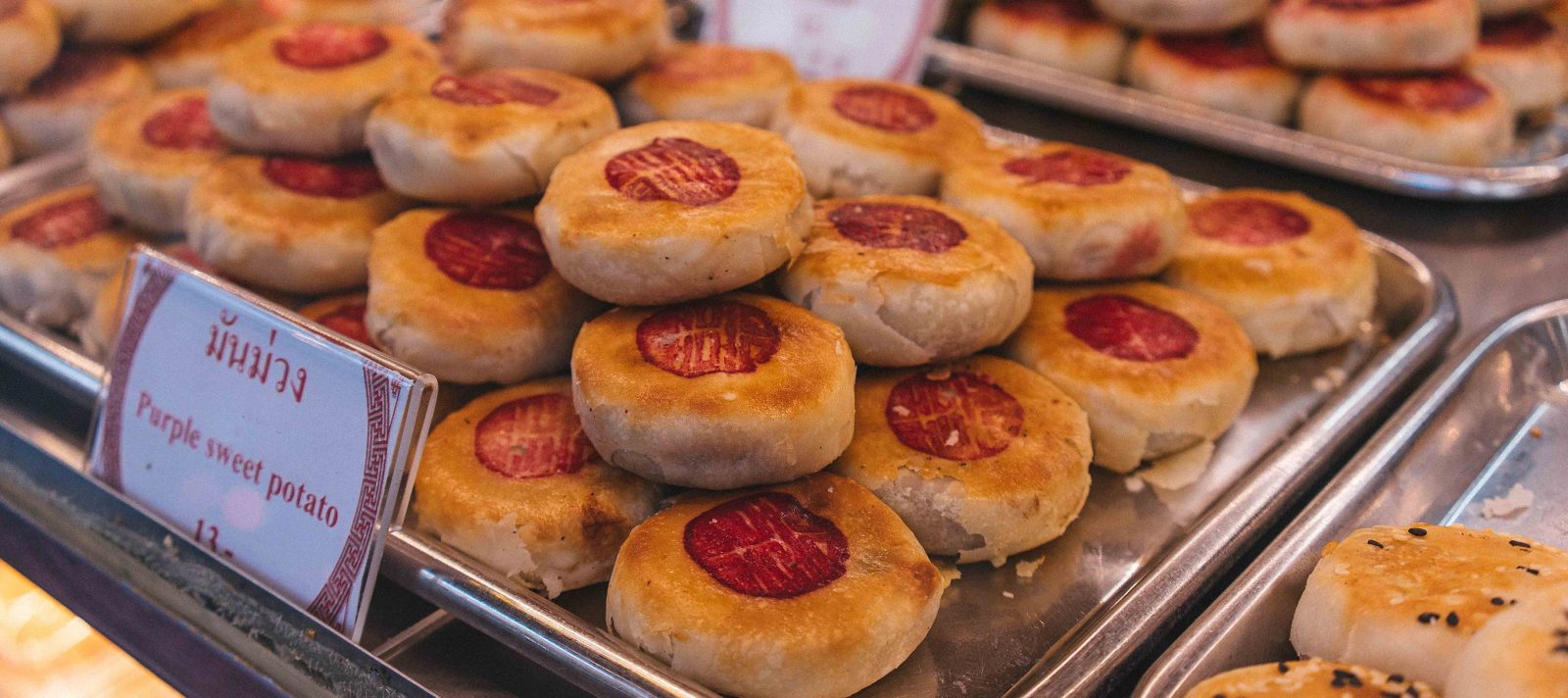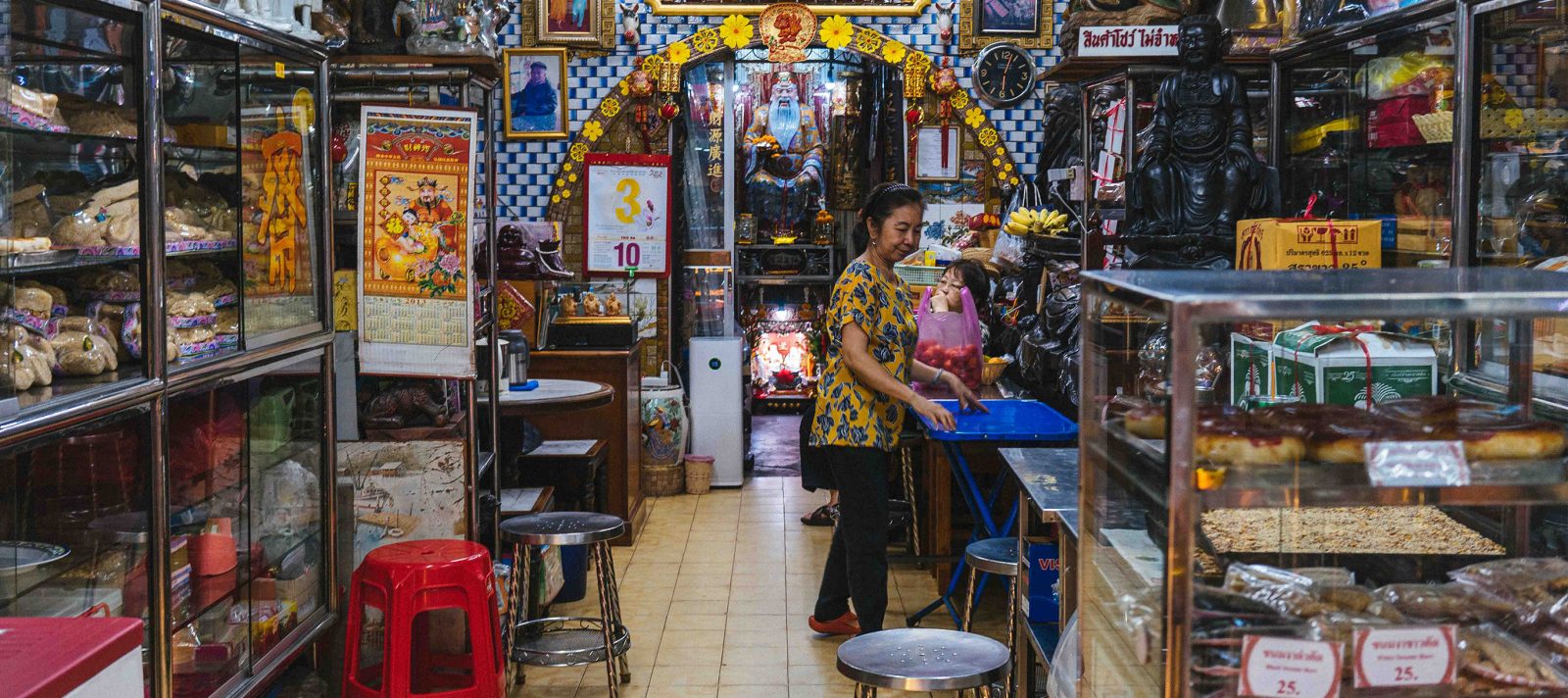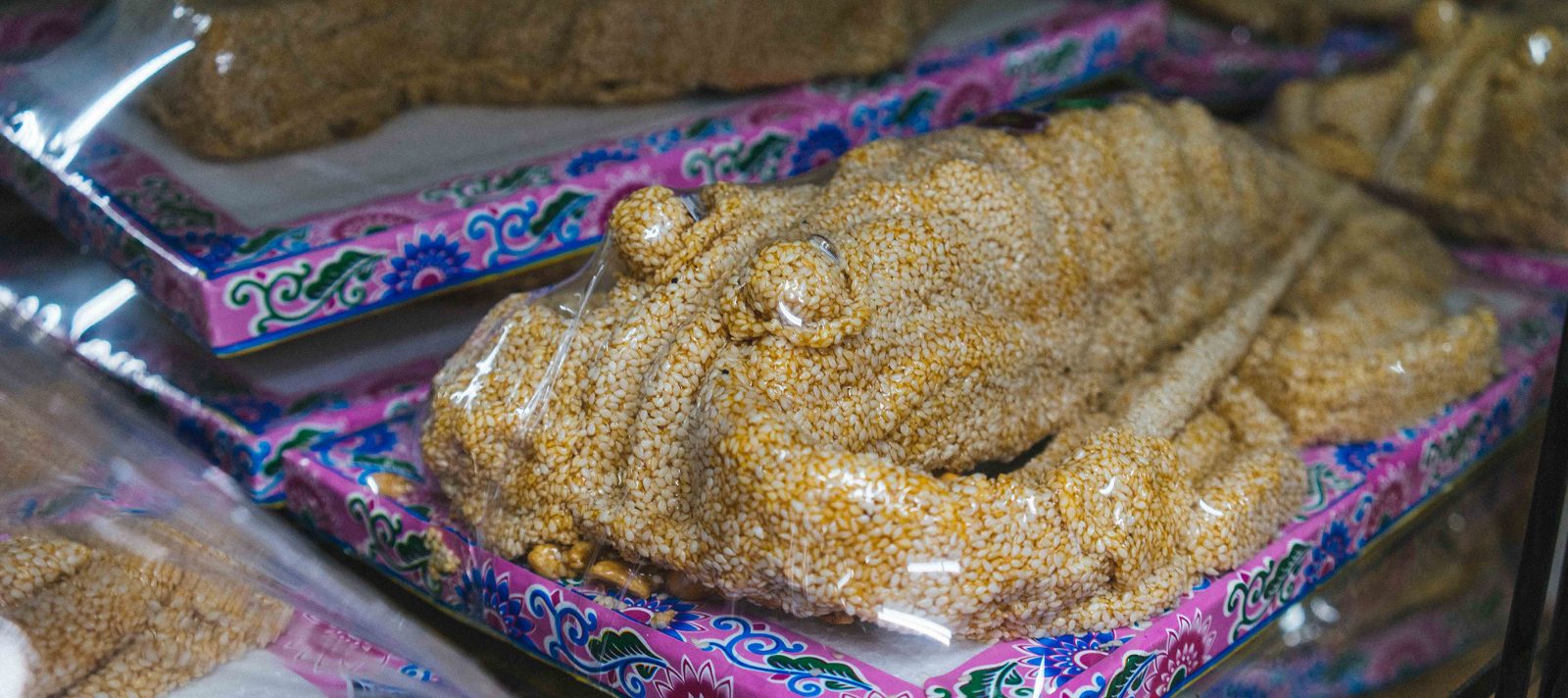 Stop 5. Pa Tong Go Chinese Fried Doughnuts
Another Michelin-approved vendor, Pa Tong Go Savoey was awarded a Michelin Plate in 2019 for its adaptation of youtiao, Chinese doughnuts. Watch the two-man team meticulously prepare the elastic dough, layering two indented rectangles and stretching them gently together, before placing them in bubbling-hot oil where they instantly puff up. They're flipped with long chopsticks, drained and served hot with a tub of sangkaya bai toey (pandan custard) – crisp and golden on the outside and pillowy in the middle.
Pa Tong Go Savoey: 489 Song Sawat Road, Yaowarat, Samphanthawong, Bangkok, instagram.com/Patonggosavoeyyaowarat, Tue-Sun 6pm-midnight
Need something salty? Click here for where to eat something savoury.
Sofia Levin travelled with assistance from the Tourism Authority of Thailand and Thai Airways, but this article remains autonomous.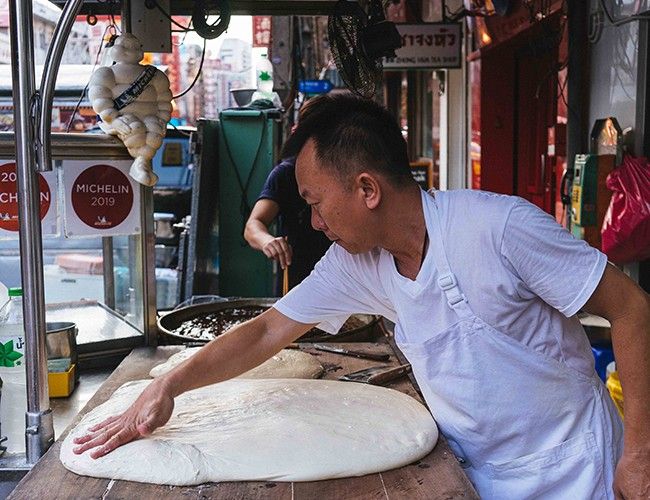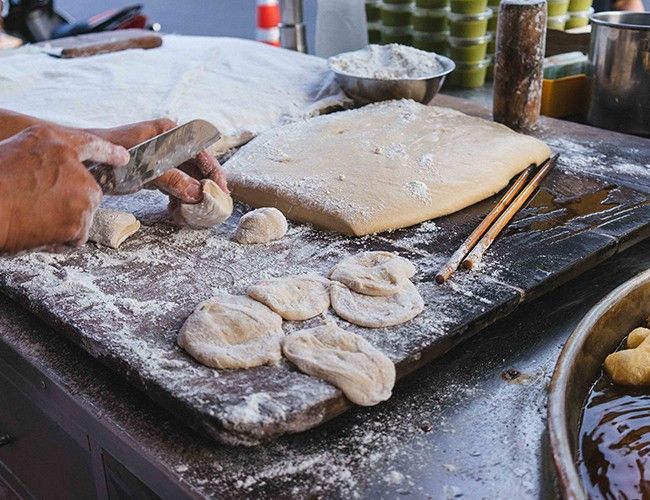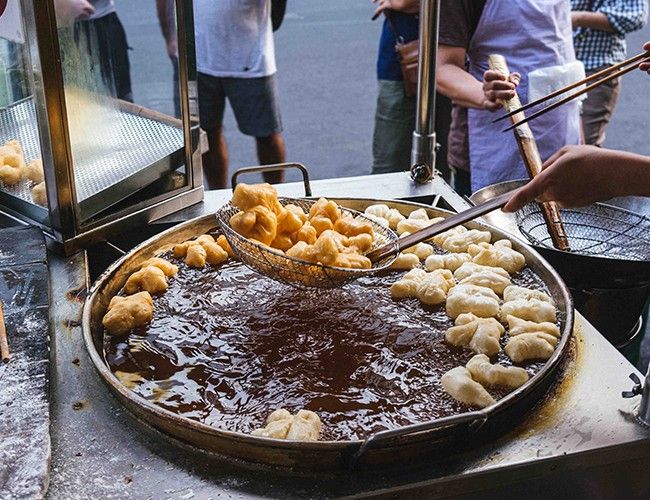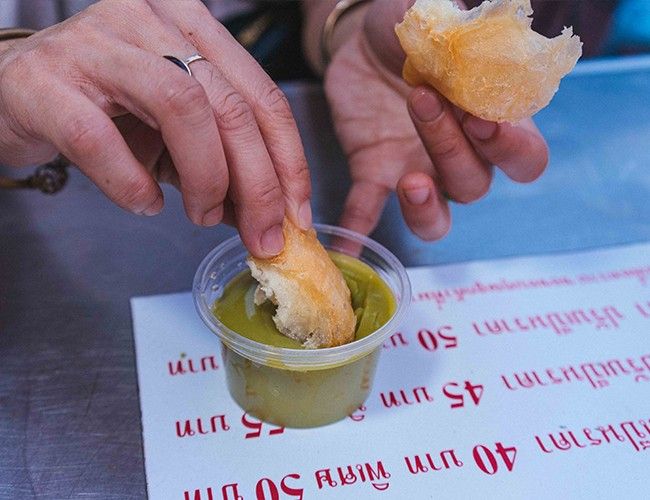 Around the World in 80 Lesser-Known Melbourne Restaurants
FREE food guide when you subscribe.