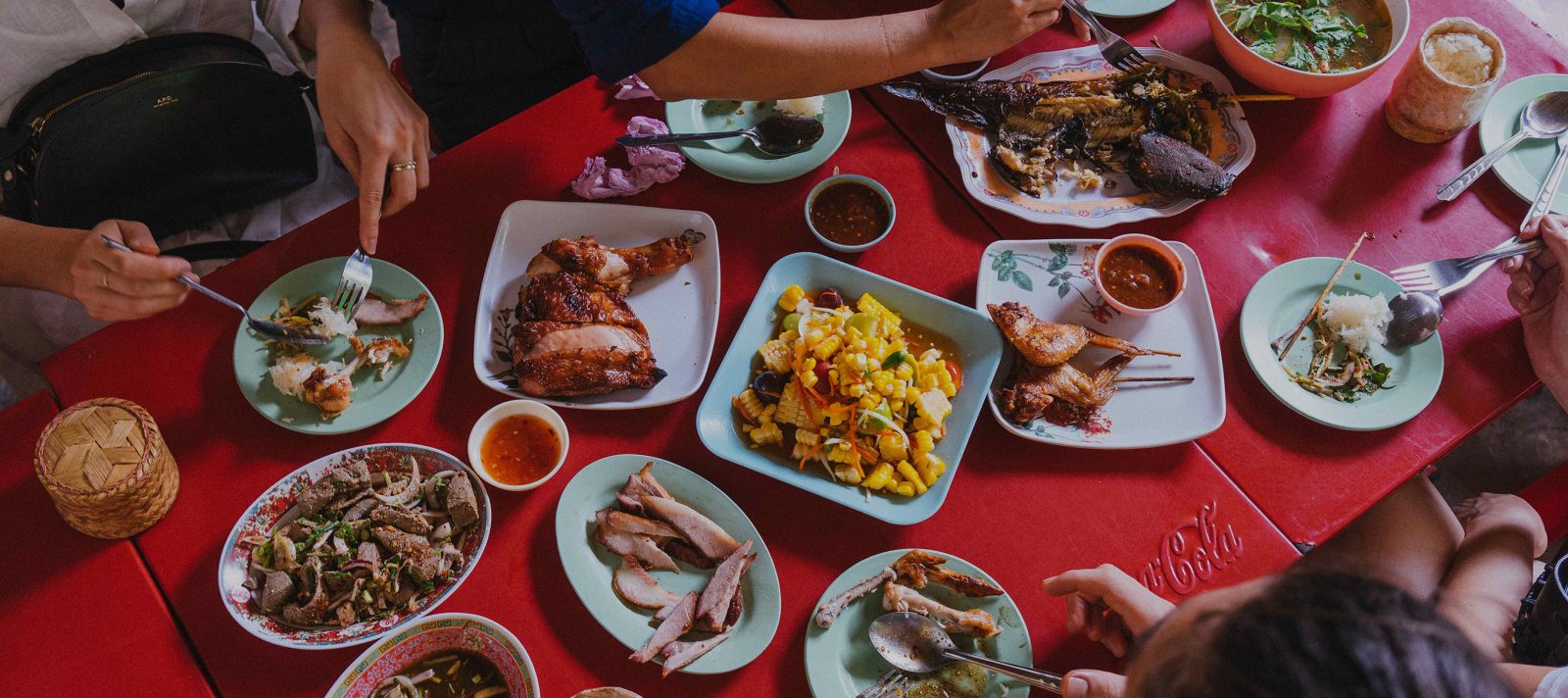 Bangkok:
Eat Like A Local
The Absolute Best Restaurants to Eat like a Local in Bangkok
Words & images by Sofia Levin
From hidden gems and Michelin-starred street food to authentic sit-down restaurants, it's no coincidence that the best places to eat in Bangkok are frequented by locals.
This list of nine gems to eat at in Bangkok will take you from deep-fried mackerel heads as moreish as Pringles to the seductive sourness and spice of Northeastern Thailand's Isaan food. Slip into daily life in Thailand's buzzing capital city and eat like the people who live here. Read on for curries on rice at a khao gaeng restaurant, a quick boat noodle stop for lunch, Chinese-influence family feasts and so much more.
1. Soei Restaurant ร้านเส่ย Fried Fish Heads & Seafood
The front, floral-tiled patio of this seafood haunt is reminiscent of a wet market after everything's been meticulously hosed down. Plastic baskets of seafood on ice sit beside the kitchen and customers eat whole kaem pla too tod, garlicky mackerel heads so light and crisp they could have come from a chip packet. Visit hungry and order hot-as-hell tom yum pla too (mackerel tom yum soup); blood cockle salad lavished with herbs, shallots and galangal and aromatic pu pad pong garee (soft shell crab curry).
THB100 to THB150
Phibun Watthana 6 Alley, Samsen Nai, Phaya Thai, Bangkok, soei-restaurant.business.site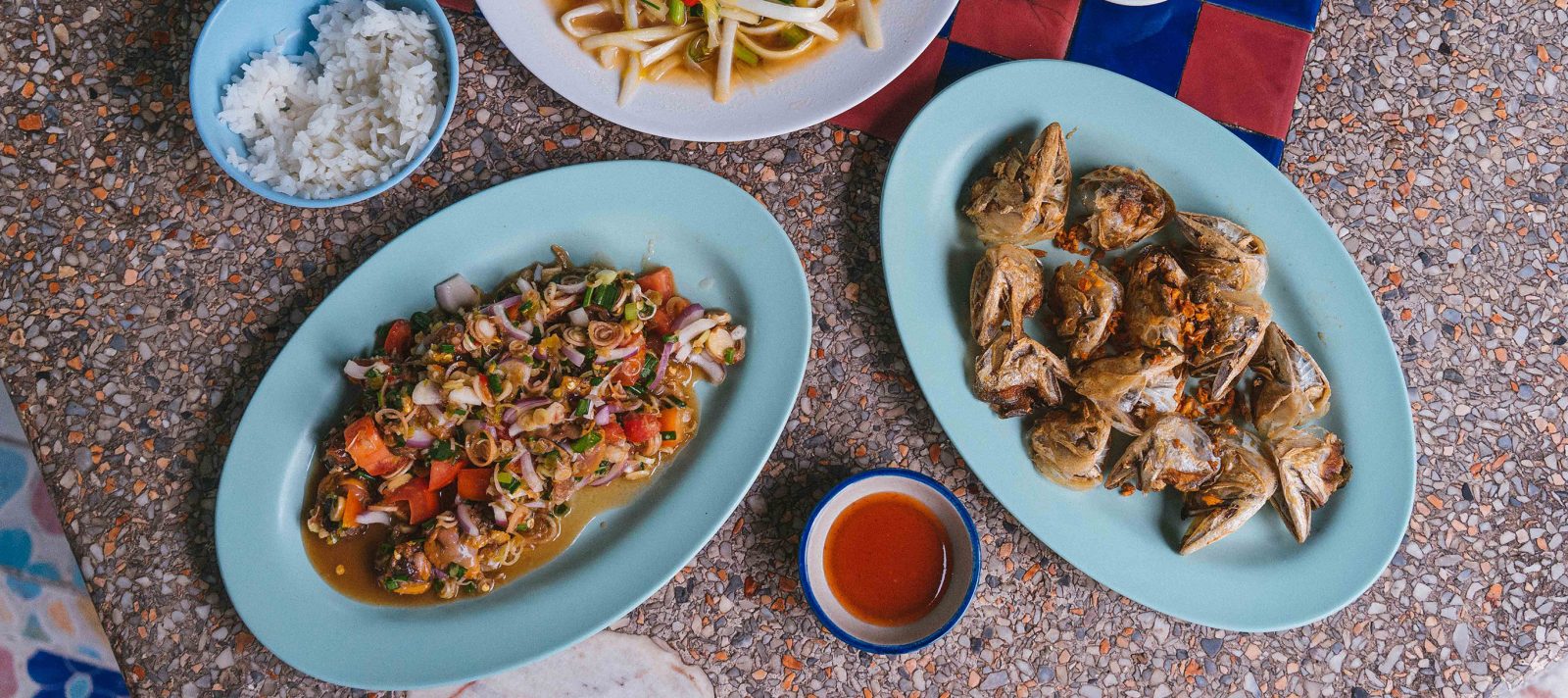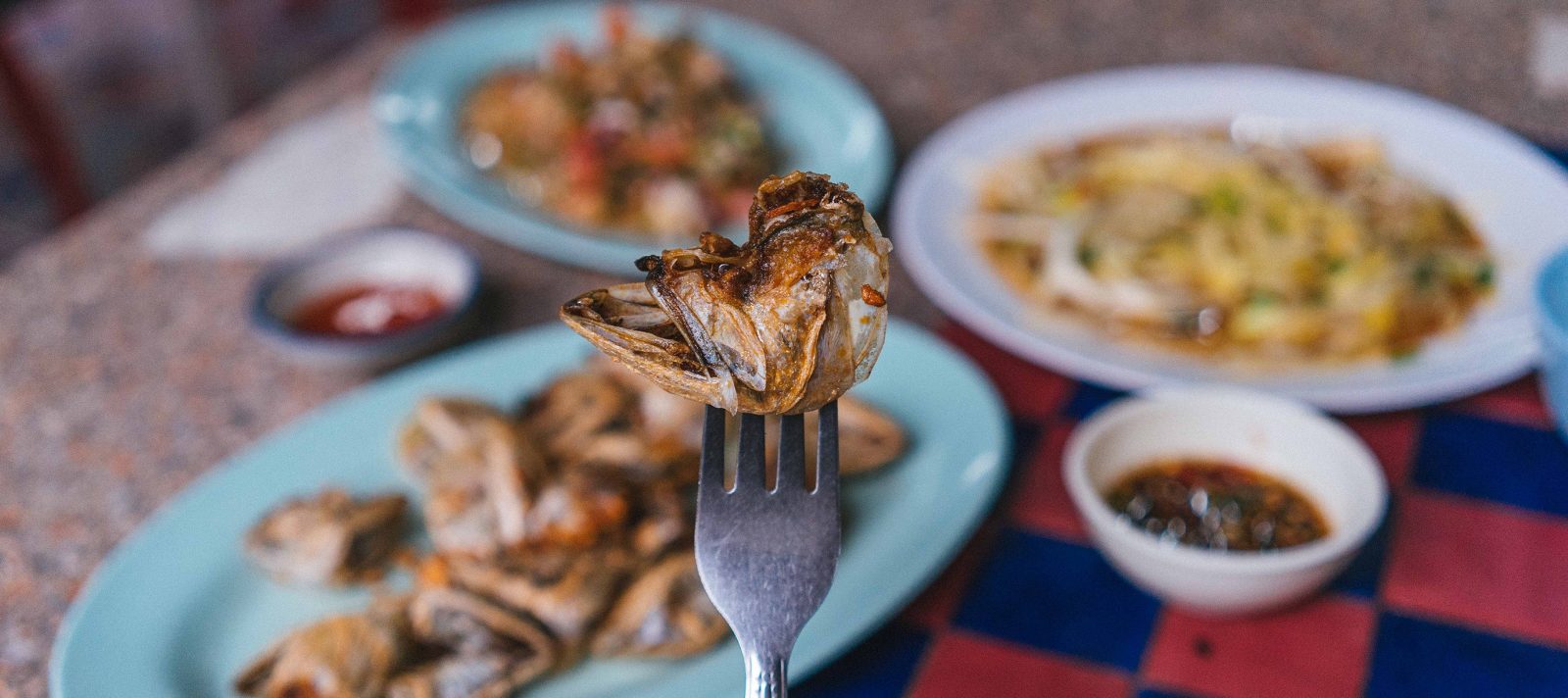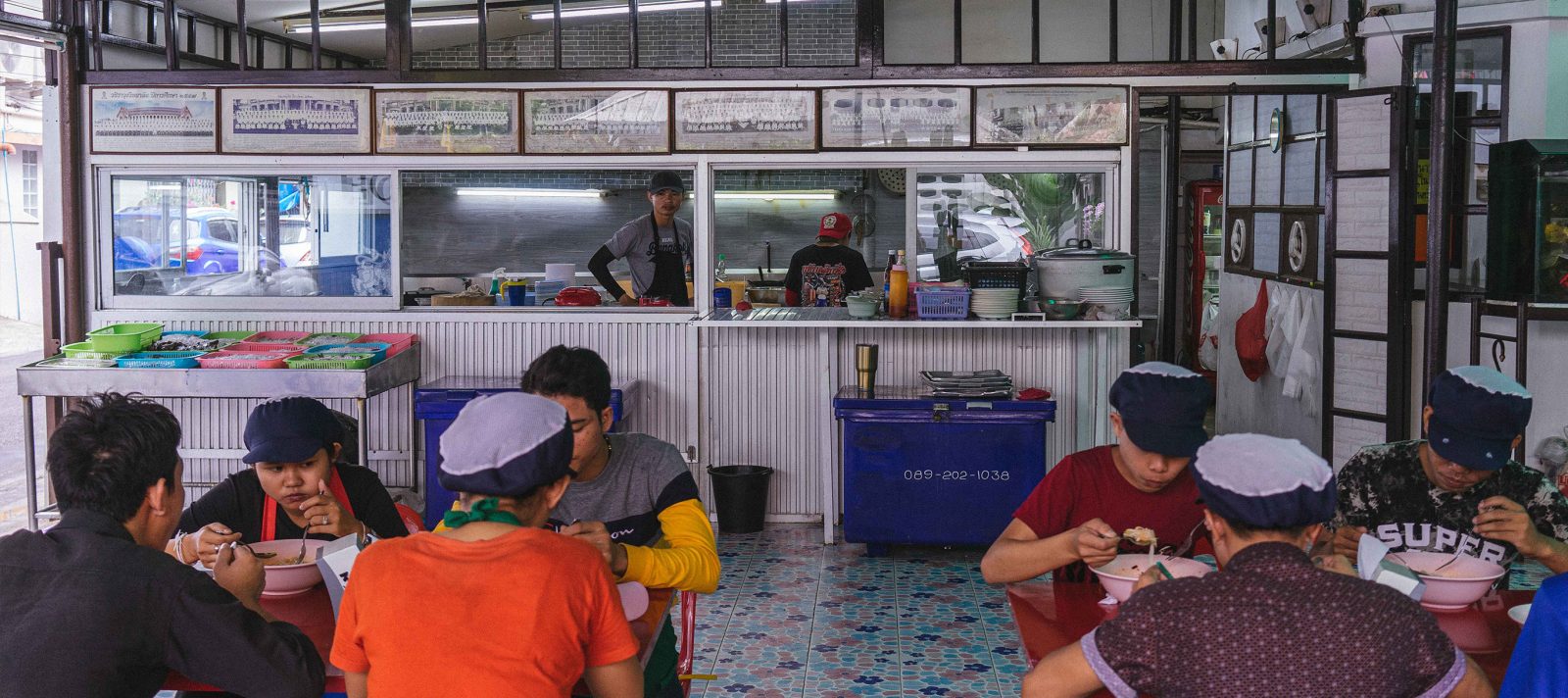 2. Som Tam Jay So ร้านส้มตำเจ๊โส Isaan Cuisine
Isaan is a region in northeastern Thailand known for its love of spice and fermented ingredients. The cuisine is characterised by sourness, chilli and heavy-handed use of herbs, lime, dried shrimp, fermented fish sauce and sticky rice. Som tam (spicy green papaya salad) and larb (minced pork with lime juice, fish sauce and herbs) hail from Isaan and are especially good at Som Tam Jay So. Also try gai yang (grilled chicken marinated in garlic, fish sauce and herbs), pik gai yang (wings on skewers), kaw moo yang (fermented strips of grilled pork) and tom saeb moo (sour soup with lemongrass, galangal and kaffir lime). Use the check-box paper menu (Thai only), point and order, or better yet, visit with someone who speaks Thai.
THB40 to THB80
Phiphat 2, Silom, Bang Rak, Bangkok 10500, Thailand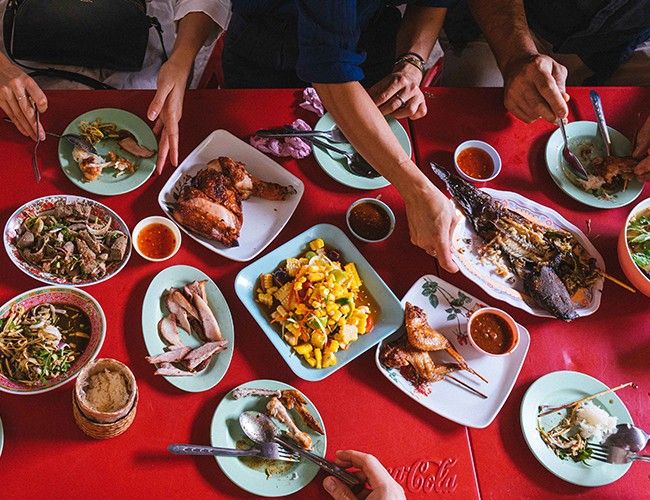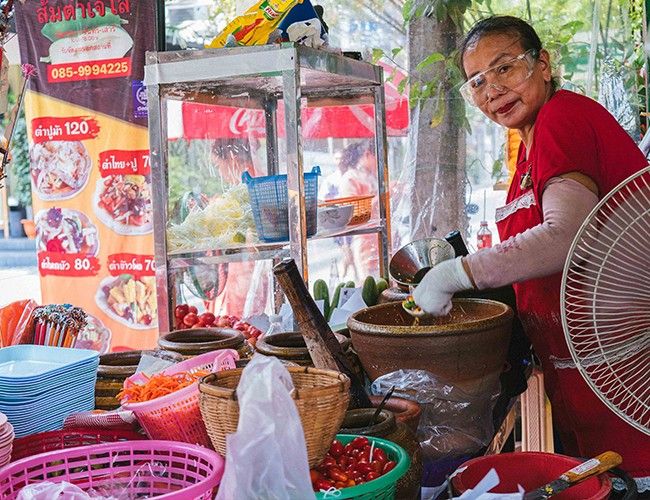 3. Pa Daeng Kitchen ครัวป้าแดงบางลำพู Khao Gaeng
A khao gaeng restaurant is a worker's canteen where pre-prepared dishes are served with rice. Most people visit in the morning for breakfast or to pick up food for lunch. If you come late morning, the second-generation owner of this 40-plus-year-old business will be apologetic, even if there appears to be plenty left. Look for moo paloo, a braised dish of spongy tofu, hard-boiled eggs and pork belly in five-spice broth; kai loug kheuh (son-in-law eggs); hor mok pla, fish curry steamed in a banana leaf cup with coconut milk; clear and sour tom yum pla too and khanom jeen nam ngeow, a spicy broth from northern Thailand with Chinese and Burmese roots.
40-100BAHT
423-425 Phra Sumen Road, Wat Bowon Niwet, Phra Nakhon, Bangkok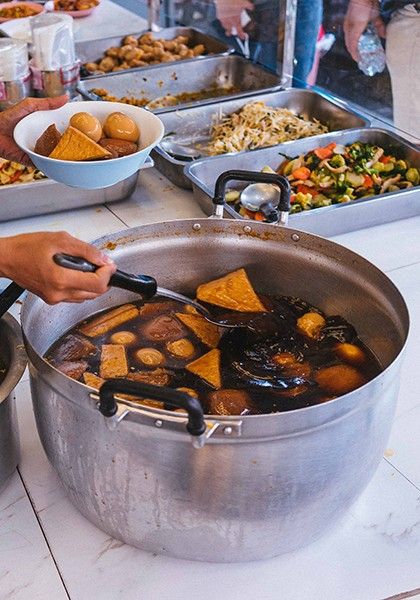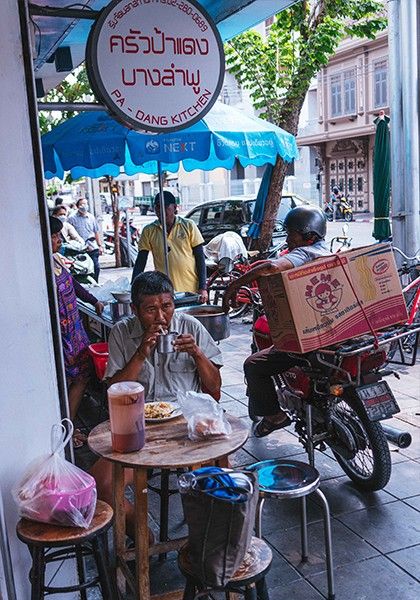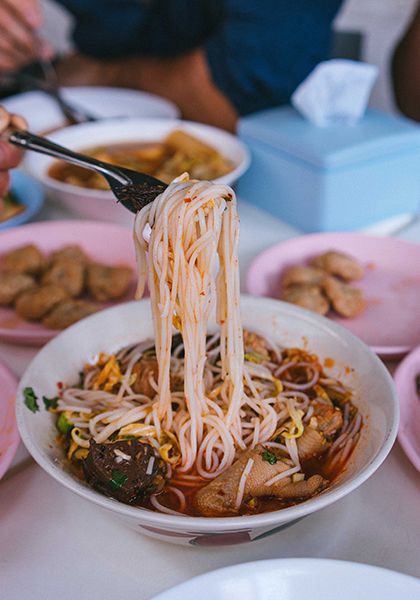 4. Tang Jai Yoo 陈再裕 Whole Suckling Pig
In the middle of Yaowarat, Bangkok's Chinatown, is an unassuming restaurant façade flanked by live fish tanks and swaying Chinese lanterns. Eighty-year-old Tang Jai Yoo is dated in all the best ways. Thai-Chinese families confiscate bowls from children spinning glass lazy susans like roundabouts. Groups of men empty Jim Beam by the bottle. But you're here for the whole roasted suckling pig. Its brittle skin is cut into rectangles so you can easily add a piece to a thin pancake with cucumber and hoisin sauce. Once the skin is gone, they rest is chopped up in the kitchen and fried with garlic before being returned for further eating. For other menu highlights, click here.
Dishes 300 BHT to 600 BHT (specialty dishes more, whole pig 2000)
85-87 Soi Yaowaphanit, off Thanon Yaowarat Samphanthawong, Bangkok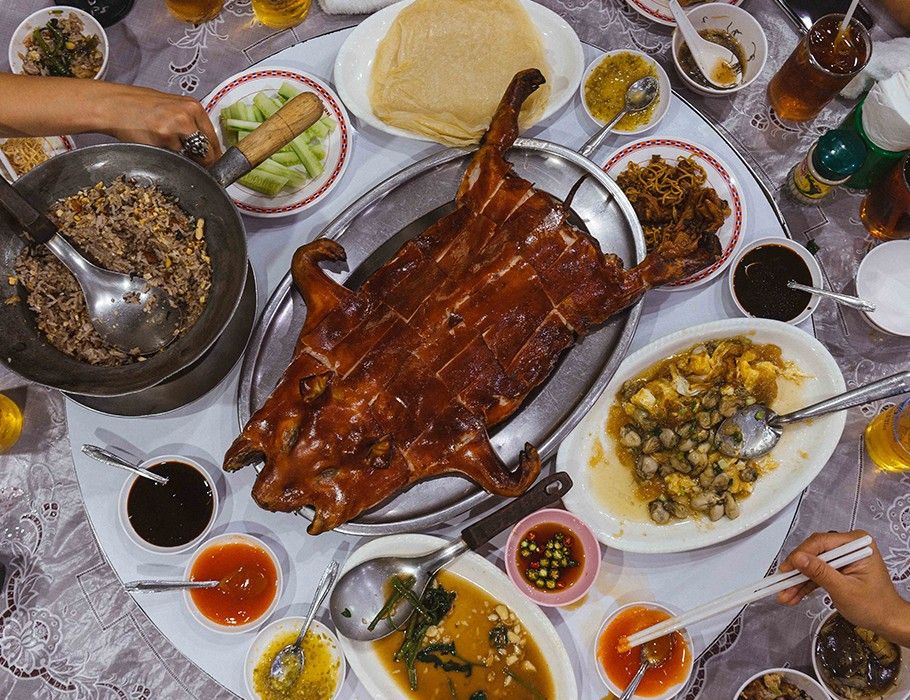 5. Doy Kuay Teow Reua ต้อยก๋วยเตี๋ยวเรือ Boat Noodles
Boat noodle restaurants alley, the strip along the canal just north of Victory Monument, is frequented by locals and visitors who travel stomach first, but the boat noodles are better about a kilometre west along the canal at Doy Kuay Teow Reua. Here you'll find a more traditional experience. Your choices are pork or beef and the default is thin rice noddles. The broth here is superior to the more modern set ups along Boat Noodle Alley; thick and dark enough to leave a muddy residue on the sides of the bowl as the liquid level drops.
Doy Kuay Teow Reua: alley off Soi Ratchawithi 18, Thung Phaya Thai, Ratchathewi, Bangkok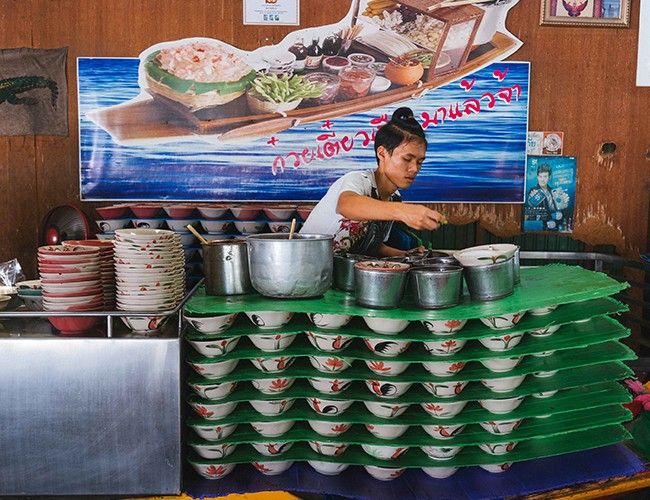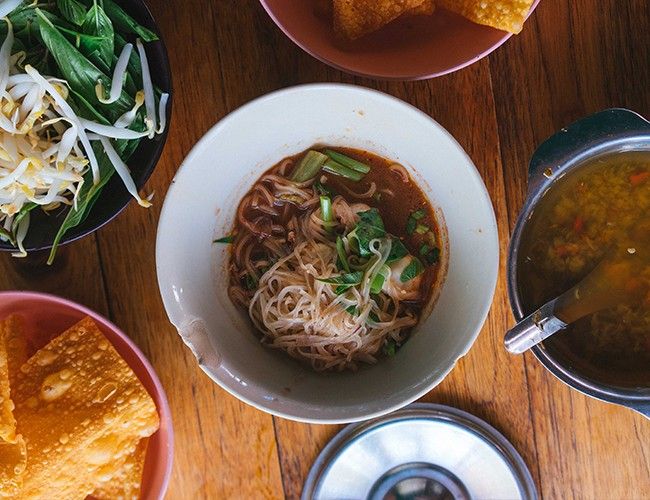 6. Nai Mong Hoi Thod นายหมงหอยทอด Oyster Omelette
Nai Mong Hoi Thod's Michelin Bib Gourmand accolade means it's pricey for an oyster omelette, but not for a Western traveller. There are a few rickety tables inside the white-tiled shophouse, but the best seats are on the street. Eggs are fried in batter with rice flour and an abundance of plump, shelled oysters in lard. There are two choices: crispy or regular. Both recipes have gone unchanged for 30 years. The crispy version is browned in the pan for longer so crust-like edges form, while the regular omelette has a soft, slippery quality.
S/M/L 100/200/300BAHT
39 Phlap Phla Chai Rd, Pom Prap, Pom Prap Sattru Phai, Bangkok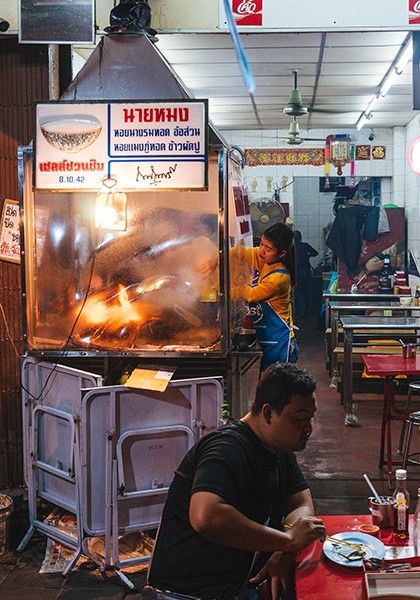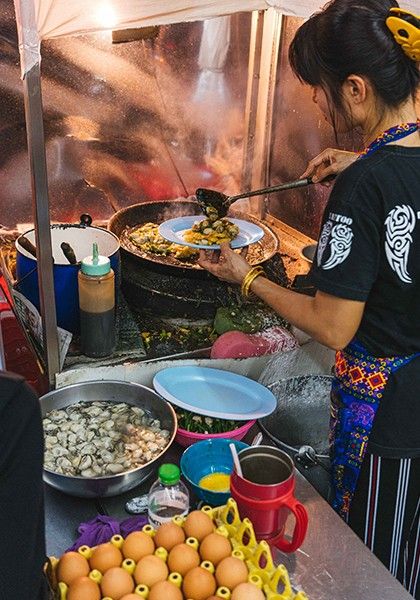 7. Chef Man Dim Sum
The eponymous restaurant of veteran Chinese chef, Wai Yin Man is one of the most popular places in Bangkok for dim sum – or yum cha, depending on where you come from. Chef Man has been awarded a Michelin Plate and is known for peking duck, ordered a day in advance. Highlights include roast duck and goose, delicate dumplings, rice noodle rolls layered with thin pastry and wrapped around juicy shrimp, pillowy turnip cake, perfectly crisp pork belly, bua loy glutinous sesame rice balls in ginger soup, papaya slices tipped with lemon jelly and purple taro lava buns with hot liquid middles.
Dim sum 115BAHT to 320 BAHT (excluding larger dishes)
Chef Man – Royal Place, 2 Ratchadamri Road, Lumphini, Pathum Wan District, Bangkok
Check chefmangroup.com for other branches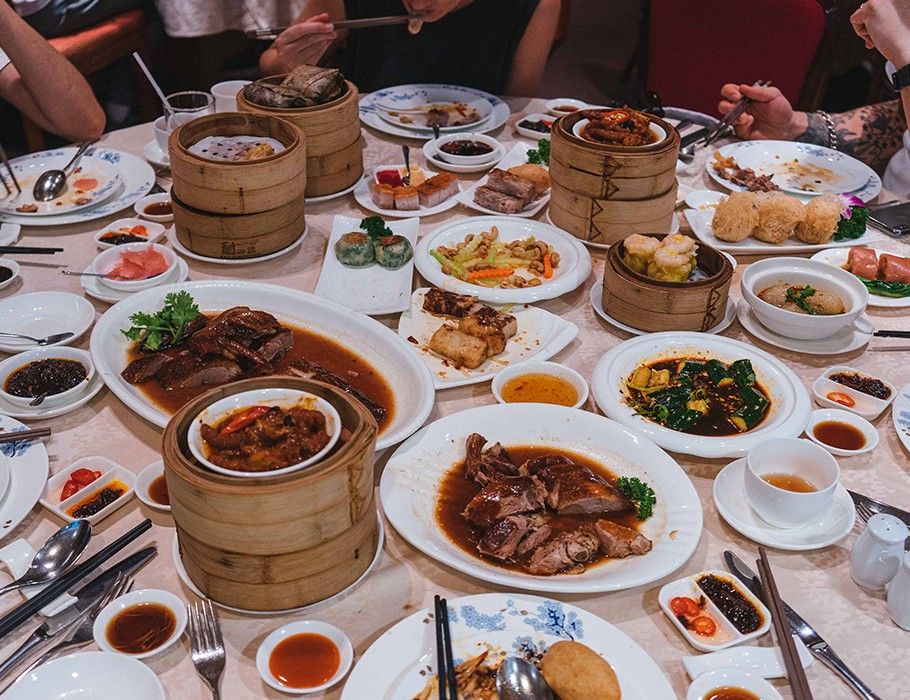 8. Outside Canton Shrine, Thong Ching Thang Jok (Rice Porridge)
This local congee stand sits at the entrance of Canton Shrine (Thong Ching Thang) and around the corner from Nai Mong Hoi Thod, the Michelin-recognised oyster omelette vendor. The woman in charge stirs cauldrons of congee with her whole body, her white-gloved hand gripping the yellow rag tied around the top of the elongated ladle. This version of jok moo (pork rice porridge) is thick without being stodgy, salty and comforting. Lurking in the soupy rice are pork balls, pork intestine and liver slices. This version is the most luxe with three kinds of egg (soft-boiled, salted and century).
45-50 BAHT
Charoen Krung Road near the corner of Phlap Phla Chai Road outside Canton Shrine, Wang Burapha Phirom, Bangkok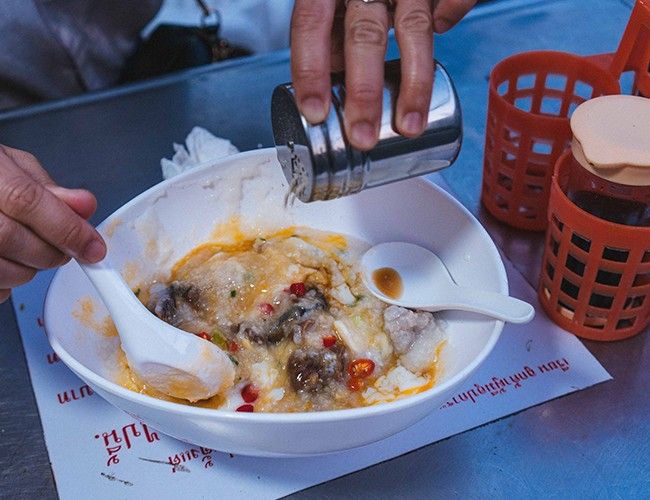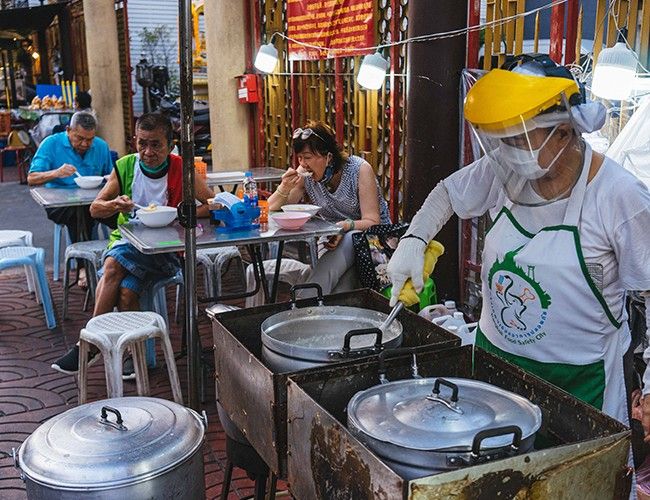 9. Guay Jub Ouan Pochana (aka Kuay Chap Auon Pochana) ก๋วยจั๊บ อ้วนโภชนา Rolled Rice Noodle Pork Soup
Laminated Michelin accolades from 2018 to 2020 frame the boss wielding a clever at this popular guay jub (rolled rice noodle soup) vendor in Chinatown. Pork belly is added from a pile to pin bowls filled with rolled rice noodles and murky broth, along with bits of liver, intestine, kidney and lung. There are two versions: guay jub nam sai (clear soup) and guay jub nam kon (thicker, darker soup with five spice). Guay Jub Ouan Pochana has been serving the dish for more than 50 years.
50BHT (small), 100BHT (large), 10 BHT (egg)
408 Yaowarat Road, Chakkrawat, Chakkaphat, Bangkok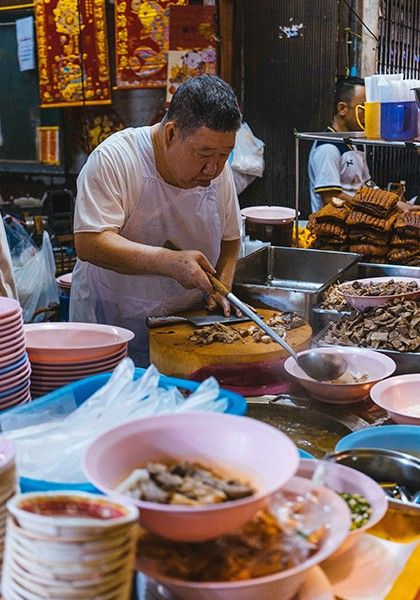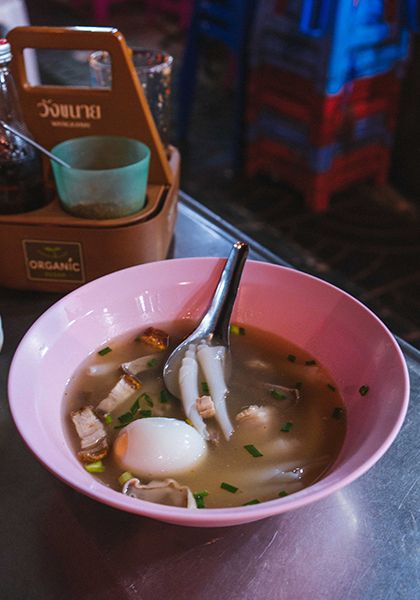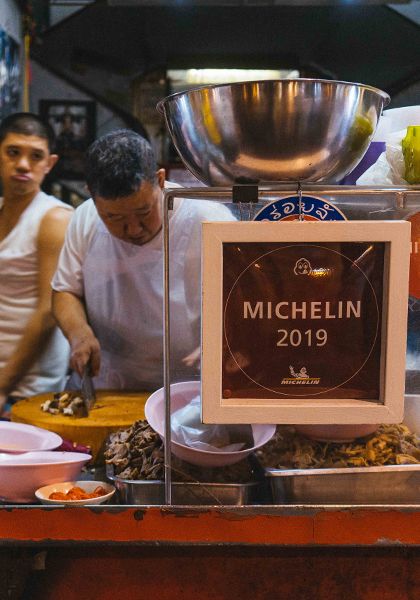 Want to finish on a sweet note? Click here for a self-guided walking tour through Bangkok of traditional Thai desserts.
Sofia Levin travelled with assistance from the Tourism Authority of Thailand and Thai Airways, but this article remains autonomous.
Around the World in 80 Lesser-Known Melbourne Restaurants
FREE food guide when you subscribe.