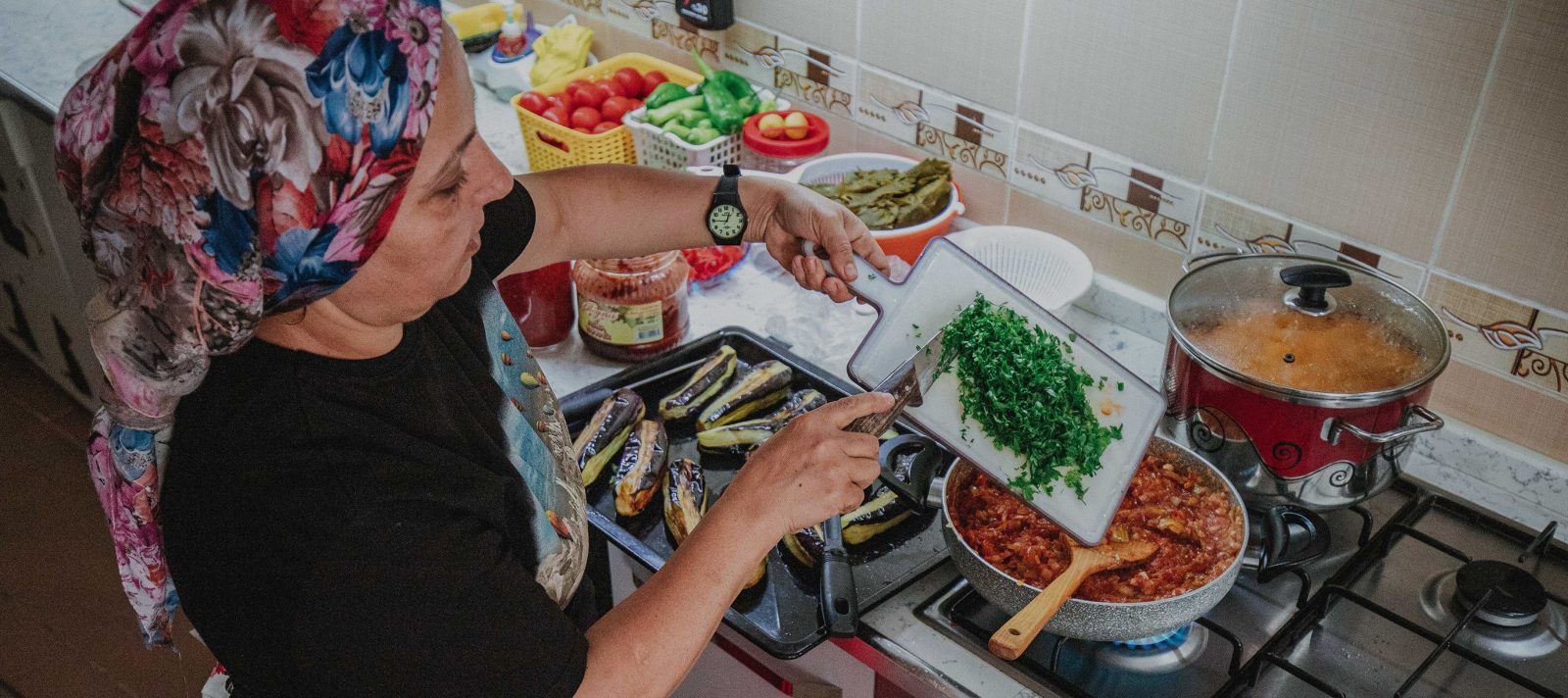 Turkey for
Food Lovers
The Best Experiences in Turkey for Food Lovers
Words by Sofia Levin
Images by Sofia Levin,
Liam Neal & Justin Meneguzzi
If you travel to eat, you won't just leave these tables satiated – you'll leave with a better understanding of Turkish culture and history.
This is not a list of common dishes to eat when visiting Turkey. I'm not going to tell you to buy baklava and lokum (Turkish delight), or to eat substandard balık ekmek, (fish wraps) in Eminönü. Rather, this is a collection of culinary experiences that will enrich your travels and leave you with so much more than a full belly.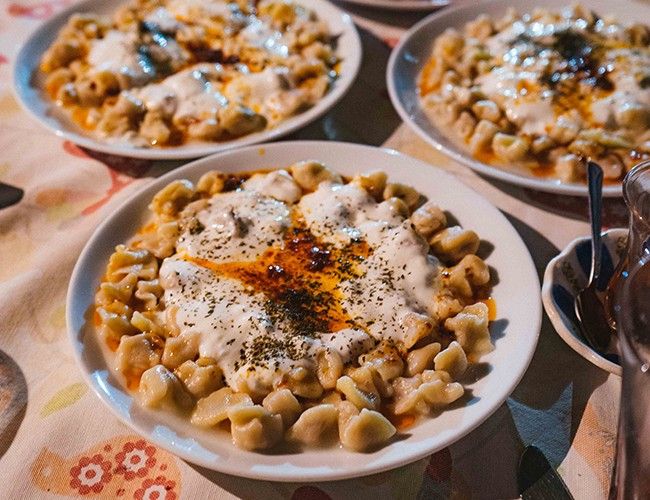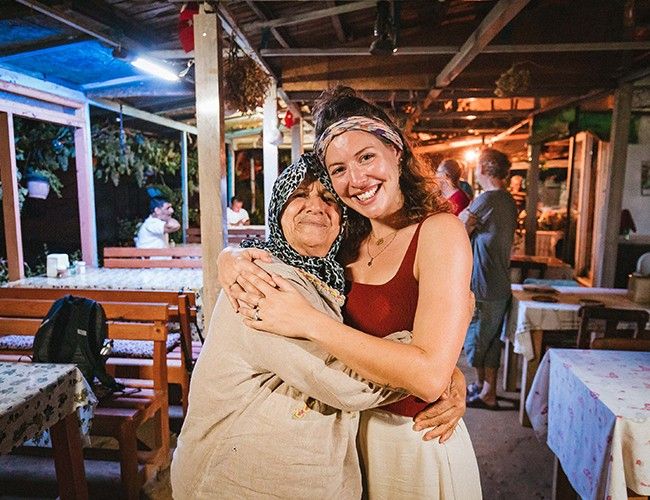 1. Manti and Motherly Love in Şirince Village
When visiting the ancient ruins of UNESCO-listed port city Ephesus, travellers generally stay in nearby Selçuk. About seven kilometres east along a road that snakes through vineyards and orchards is Şirince, a 600-person village with pretty narrow streets that cater to tourists with homemade preserves, fruit wines and clothing for sale. At the very top of the cobbled incline, beyond the Church of St John the Baptist and perhaps a little further uphill than one might be inclined to go, you'll find Tepebaşı Pervin Teyze Gözleme Bahçesi. Owner Pervin rolls out dough for manti and cooks gözleme over a wood-fired oven. It's a rustic setting, with wooden chairs and raised, cushioned seating blanketed in carpets. You're here for the food – and the view.
This family-run terrace restaurant looks out over the village across the garden that supplies the restaurant, to stone houses with red-tiled roofs and tranquil, countryside vistas. Order stuffed zucchini flowers plucked from the garden and fried in a light batter, as well as perfect little manti – Turkey's answer to ravioli – in yoghurt sauce. If you travel with Intrepid, you'll be able to help make the manti during an evening cooking demonstration, though I get the impression that if it's not too busy, Pervin might oblige you anyway. Her warmth permeates every corner and customer, so don't be surprised if she holds your hand, takes you in a motherly embrace or shows you her old wedding photos.
2. Start your morning with a traditional Turkish Breakfast
Breakfast in Turkey is known as kahvaltı, which translates to "before coffee". In this part of the world, breakfast is taken with çay (black tea) and can be one of a number of things. What visitors usually consider a traditional Turkish breakfast involves a spread of dishes, including eggs cooked a variety of ways; local cheese ranging from unpasteurised sheep's milk strings to feta-like beyaz peynir; spreads like pekmez fruit molasses, tahini and honey; olives; fresh herbs, tomato, cucumber and fruits; and simit (sesame-speckled bread rings). Locals usually start the day with a simple soup (sometimes containing offal), menemen scrambled eggs in a pan or luscious kaymak – dense clotted cream made from water buffalo milk. For recommendations on where to eat all of the above in Istanbul, click here.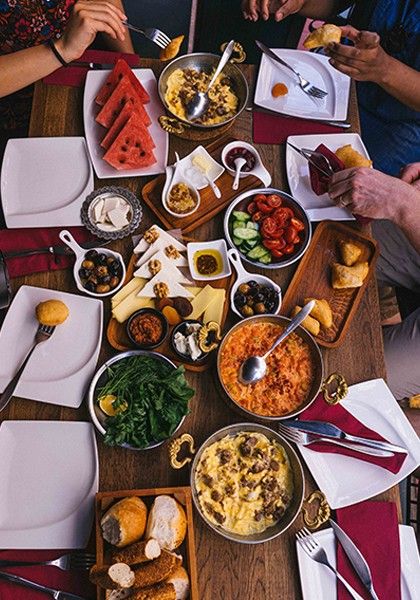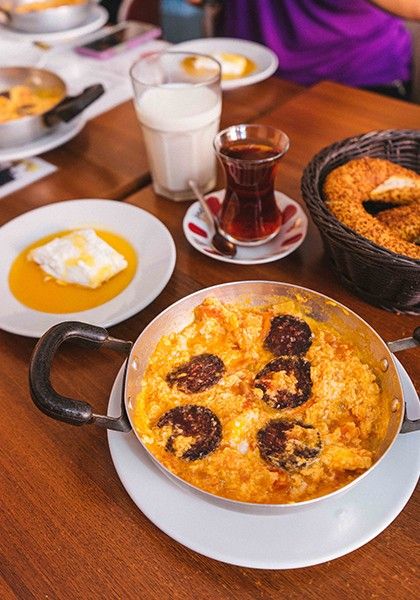 3. Istanbul Street Food Tour
If you have limited time in Istanbul, taking a street food tour is a wonderful way to try multiple dishes while learning about the history and culture of the city. I adore a street food tour because the stops are quick and numerous, which allows me to learn more in a short amount of time. I can only vouch for the tour I've taken, the Istanbul Night Tasting Trail from Urban Adventures. It started with a short ride from Karaköy to Tünel on the world's second oldest funicular, leading uphill to one end of İstiklal Caddesi, the major pedestrian street that ends in bustling Taksim Square. We tried İçli köfte, çiğ köfte, kokoreç, midye dolma, the late-night islak "wet burger" and Turkish chocolate – and somehow stopped for a light meze dinner at a traditional meyhane in the middle of all of that. To learn more about those dishes, read the Seasoned Traveller article on street food in Istanbul. For more tour information, click here.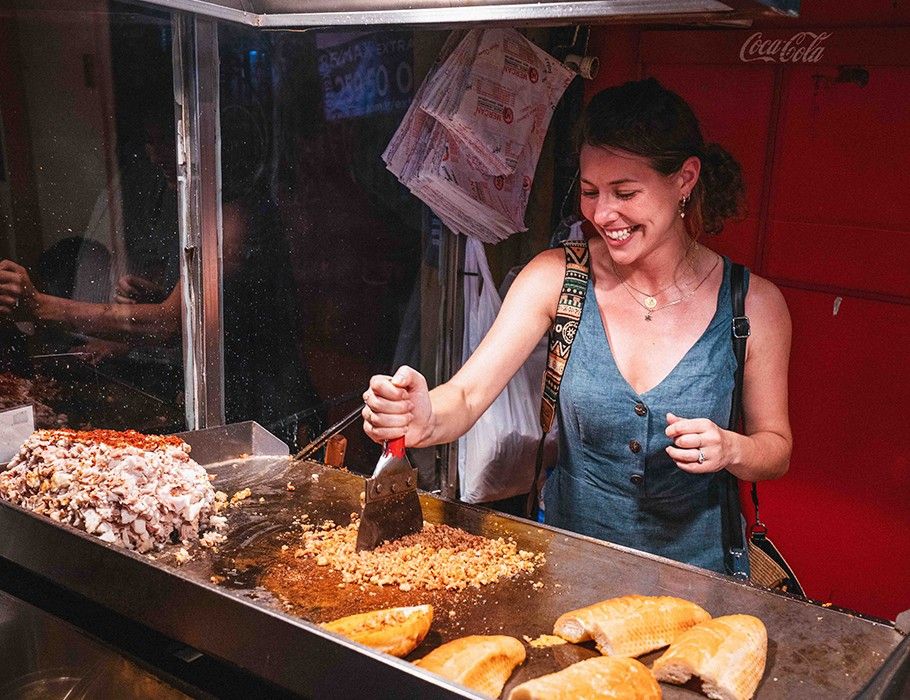 4. Explore the Spice Bazaar (and Grand Bazaar)
You can't call yourself a food lover and not visit the Spice Bazaar in Istanbul (also known as The Egyptian Bazaar or Mısır Çarşısı). Although you're better off shopping for spices, tea and Turkish delight a few blocks away for a more local experience, it's a welcome assault on the senses to meander through the stunning building with its arched ceiling and vendors that thrust lokum samples into your hand (if you see one studded with pomegranate seeds, don't hesitate).
As you enter the Spice Bazaar take a sharp left and you'll see a staircase. Follow it up to Pandeli, a restaurant dating back to 1901 that has become iconic, even though it was closed between 2016 and 2018. The original owner once made a living selling kofte and fasulye bean salad to merchants. It's now owned by a restaurant group. Although Pandeli caters to tourists, if you can get a seat in the room with windows and turquoise İznik tiles, it's an atmospheric spot to escape the flurry of the bazaar below. Either way, it's worth a peek. At Istanbul's Grand Bazaar, walking distance from Mısır Çarşısı, not only can you shop for lamps, tea sets and jewellery, but you can also eat at stalls serving yoghurt and honeycomb, dolmasi (stuffed vegetables), kebabs, durum (wraps), pide and more.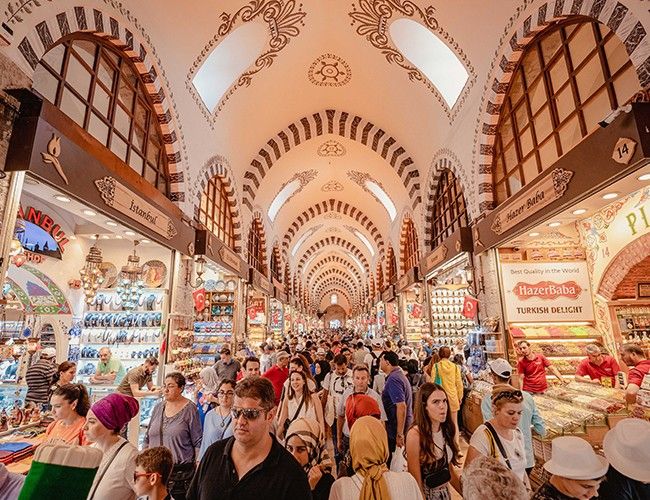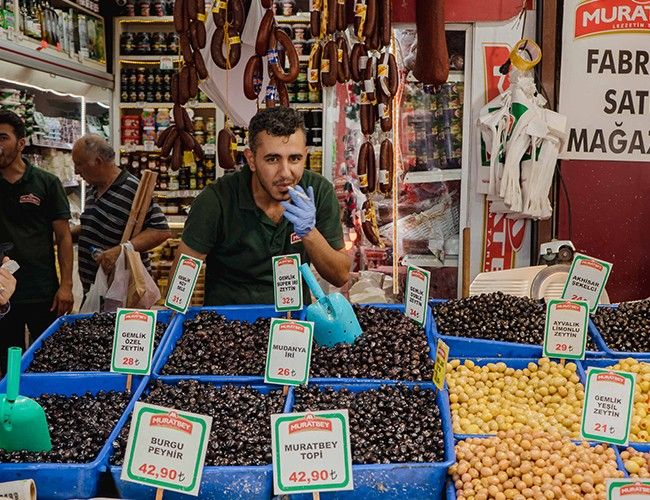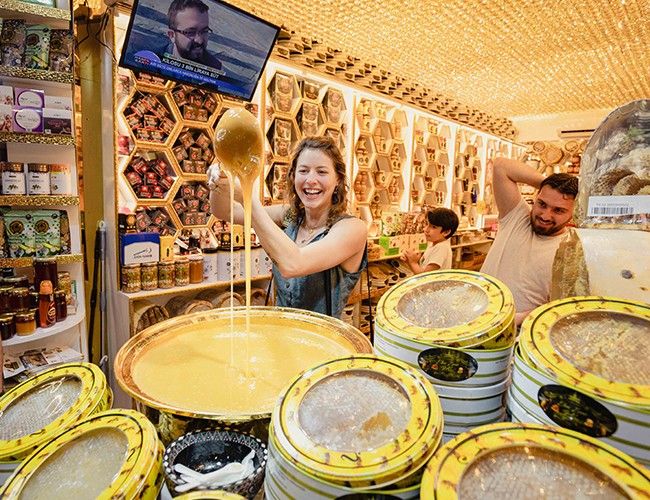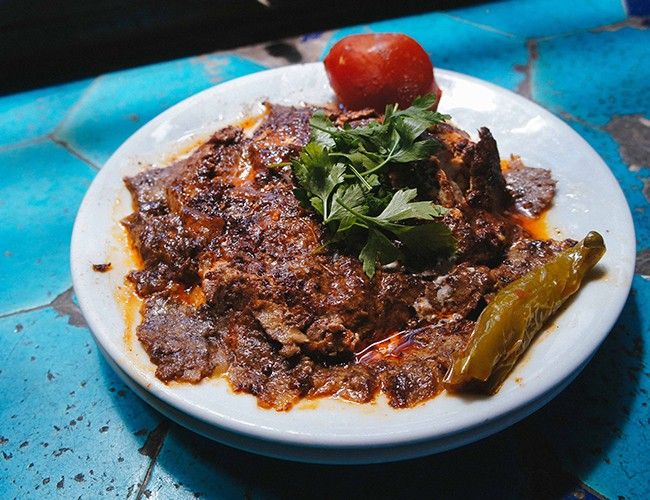 5. Free Organic Farm Breakfast in a Cappadocia Valley
If you love food and plan to visit Cappadocia, stay at Kelebek Special Cave Hotel. There are different rooms for different budgets, all set in the fairy chimney property. As a guest you can take the unforgettable organic breakfast tour for free. You'll be driven above Goreme town seated in a giant, custom wagon pulled by a tractor. The views across the distinctive landscape of fairy chimneys and valleys are matched only by owner Ali Yavuz's knowledge of the area and its history. He puts on an organic spread assembled from his farm's produce at the bottom of the Valley of the Kings. Kelebek is one of the first cave hotels in the area, and the farm has been in his family for 400 years. At the bottom of steps that have been carved into the rock is a garden, complete with a table set with local honey, homemade jams, olives, cheese, fruit and vegetables from the garden, Turkish breads and menemen cooked over fire, made using eggs from Ali's chickens and ducks.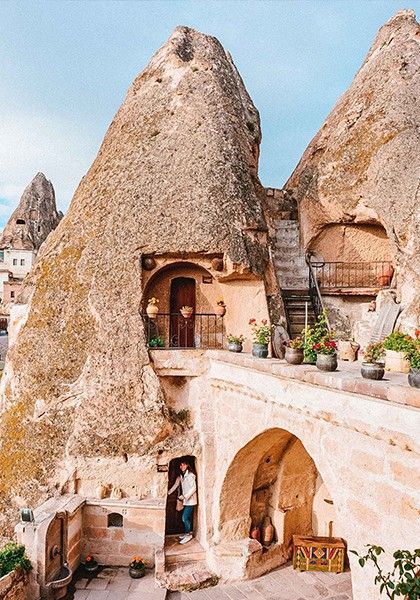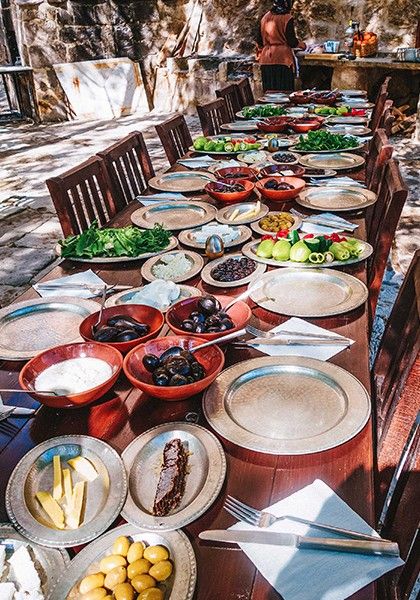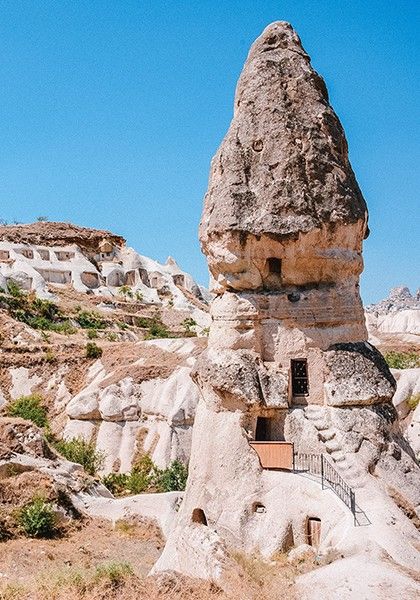 6. Eat a Testi Kebab in Cappadocia
Most people who have researched Cappadocia know it for the hot air balloons that fill the sky over Göreme while Instagrammers strike a pose at sunrise. But if there's one thing you must eat, it's the testi kebab, also known as a pottery kebab. Cappadocia is famed for its pottery, and this Anatolian dish is cooked for hours in a clay vessel sealed with dough. It's then cracked at the table while still hot, releasing the aroma of meat (usually lamb, although beef, chicken and now vegetarian versions are available), tomato, capsicum, eggplant, potato, herbs, onion and garlic. Good restaurants require you to order 24-hours prior. Dibek is a restaurant in central Göreme, set in a building that's 475-years old. Once upon a time it was split into a stable and living quarters. It's reliably good and atmospheric; with guests cracking open their own pottery kebabs while sitting on floor cushions. Dibek also makes its own wine. If you're interested, ask to see the cellar.
Cami Sokak no. 1, Göreme/Nevşehir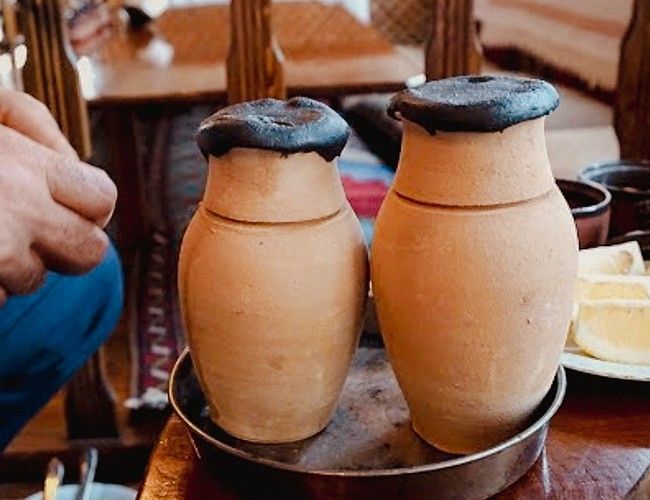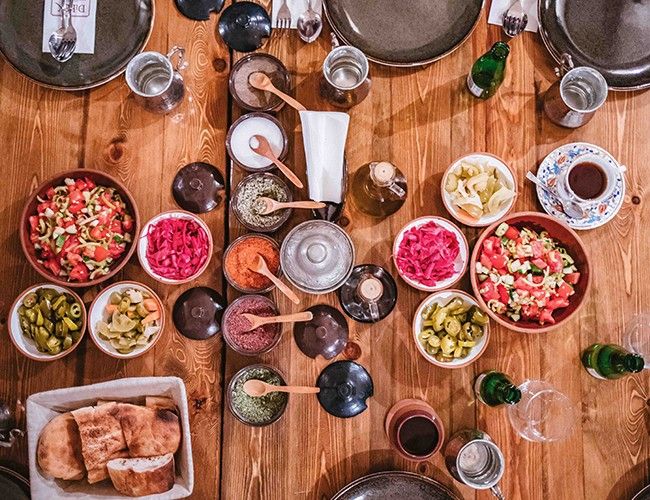 7. Take a Homely Cooking Class in Cappadocia
Cappadocia can feel overrun with tourists, but it remains unlike any other place on earth. The best way to escape the Instagram buzziness of it all is by visiting someone's home for a cooking class. There are plenty of options online, but I visited Nuray as part of an Intrepid small-group itinerary. The travel company employs local women in an attempt to balance the work and pay gap in Turkey. Smiling from beneath her floral headscarf, Nuray offered us lokrum and tea to start as we browsed family photos in the living room. Then it was time to cook, and we joined Nuray and her daughter in the kitchen. We took it in turns to stir and slice family recipes: mercimek çorbasi (lentil soup), karniyari (eggplant stuffed with minced beef and vegetables) and a halva-like dessert called aside, but getting hands on and rolling sarma (vine leaves stuffed with beef mince and rice) was the most fun, thanks to a method Nuray invented that involves a sheet of plastic and reminded me of sushi making.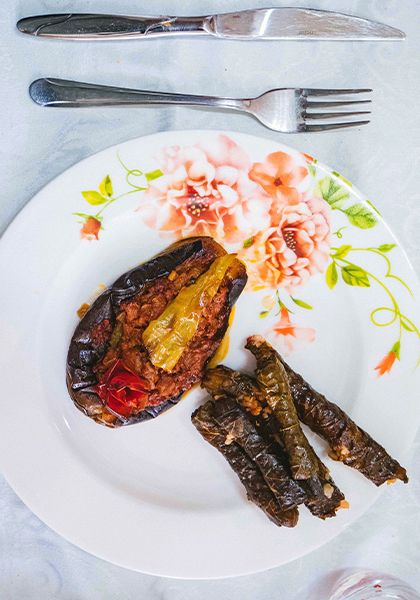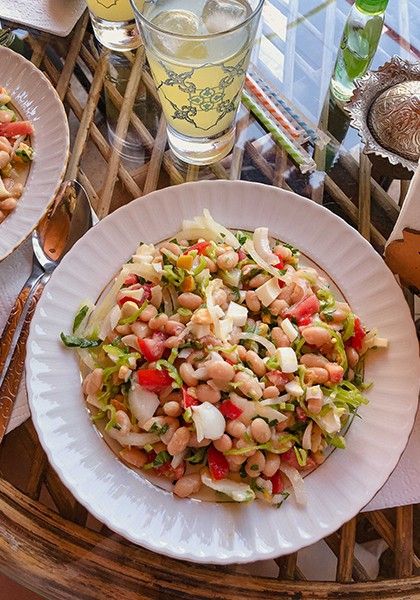 8. Eat Rustic Food at Cappadocia's Unofficial Cat Cafe
Perhaps the most homely meal in Goreme awaits at Omurca Art Cafe. Tokyo may think it started the cat cafe, but this is the original. If you don't like felines, don't visit – they're overconfident and are likely to crawl all over you to get a nibble. You can hardly blame them when the food is so wholesome; fresh vegetables and homemade soups change with the season, while heartier dishes might include manti, kofte, Turkish sausage and casseroles. Sit in the cave-like setting near the fire with mulled wine in winter, or on the secret-garden terrace with plants, traditional rugs and cats aplenty when it's warmer. And if the cats get too brazen, the owners' children will chase them away with a spray bottle of water.
Kazım Eren Sokak, Göreme/Nevşehir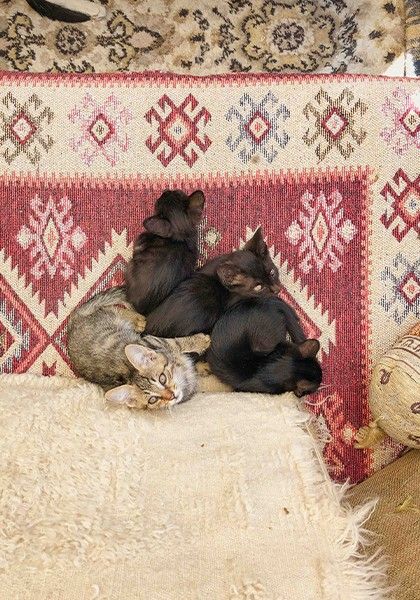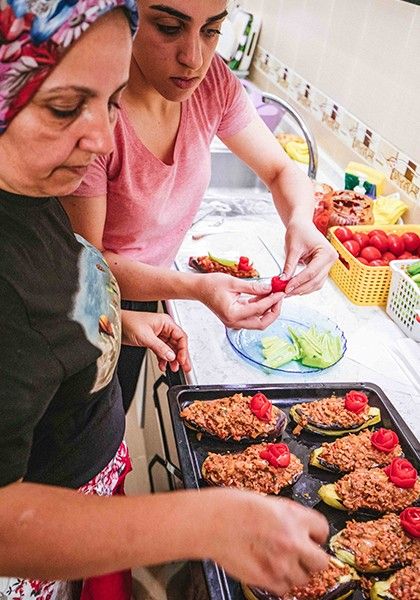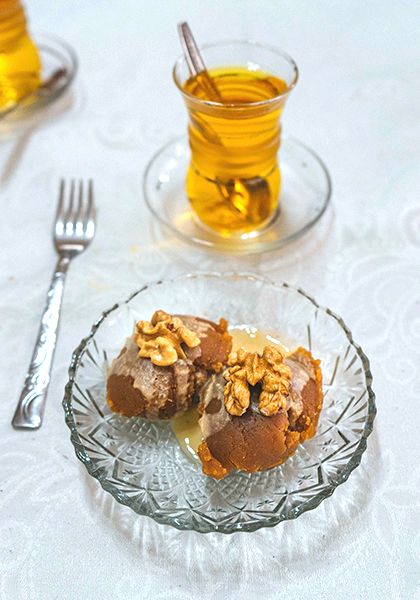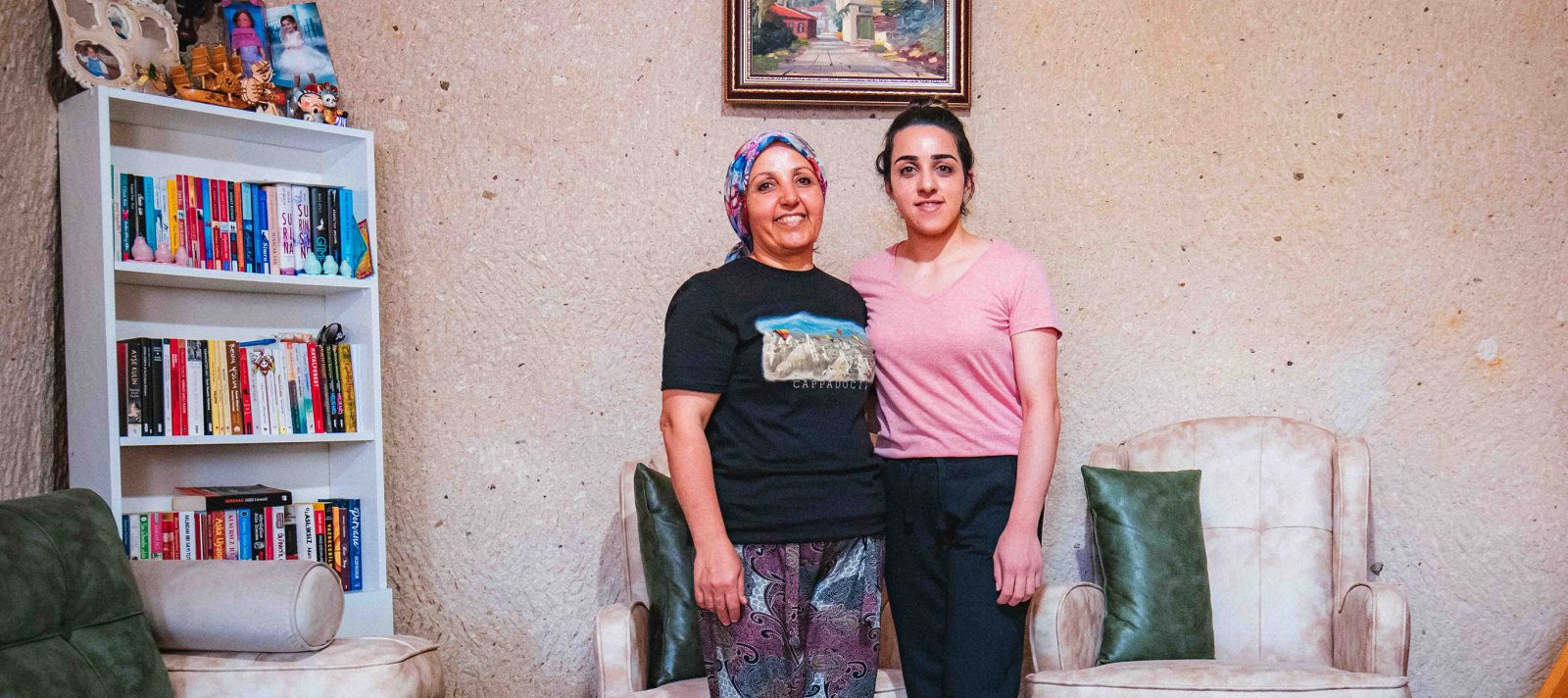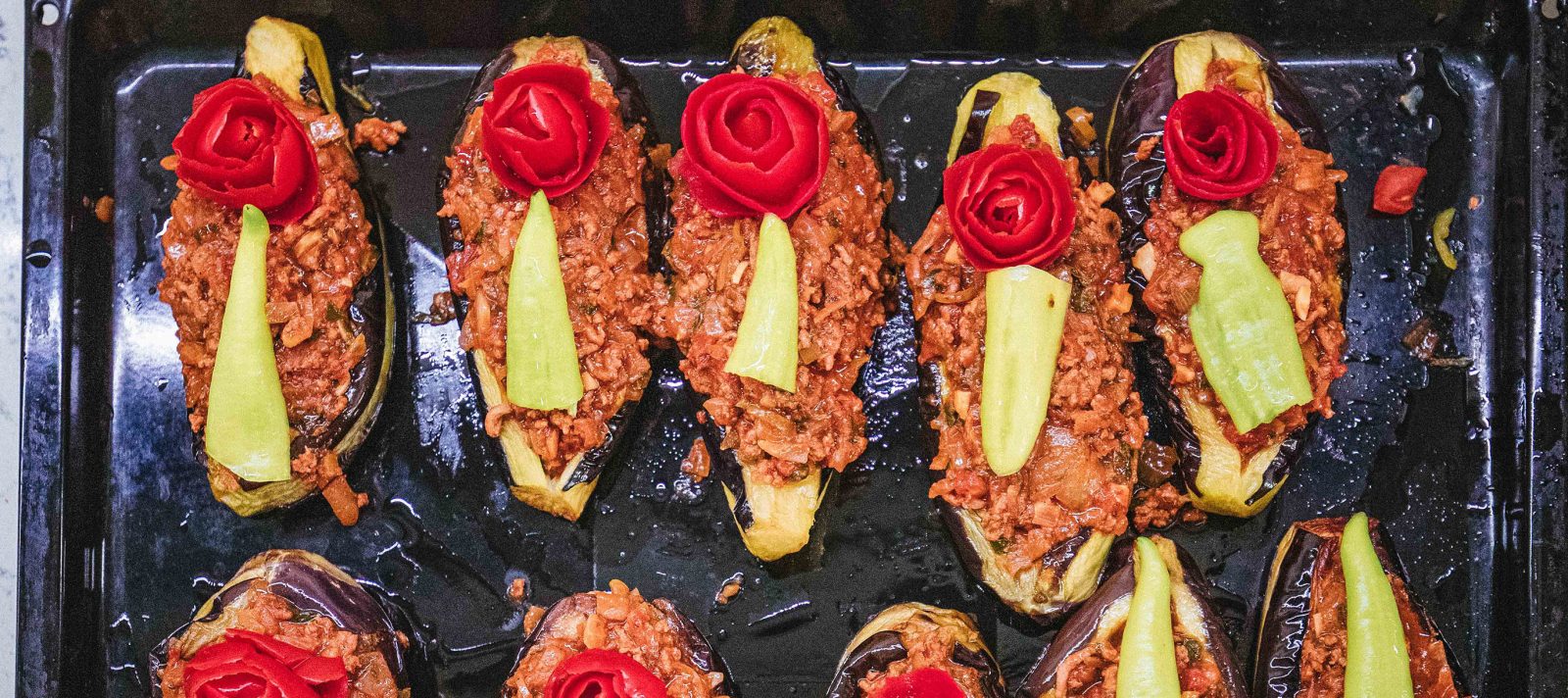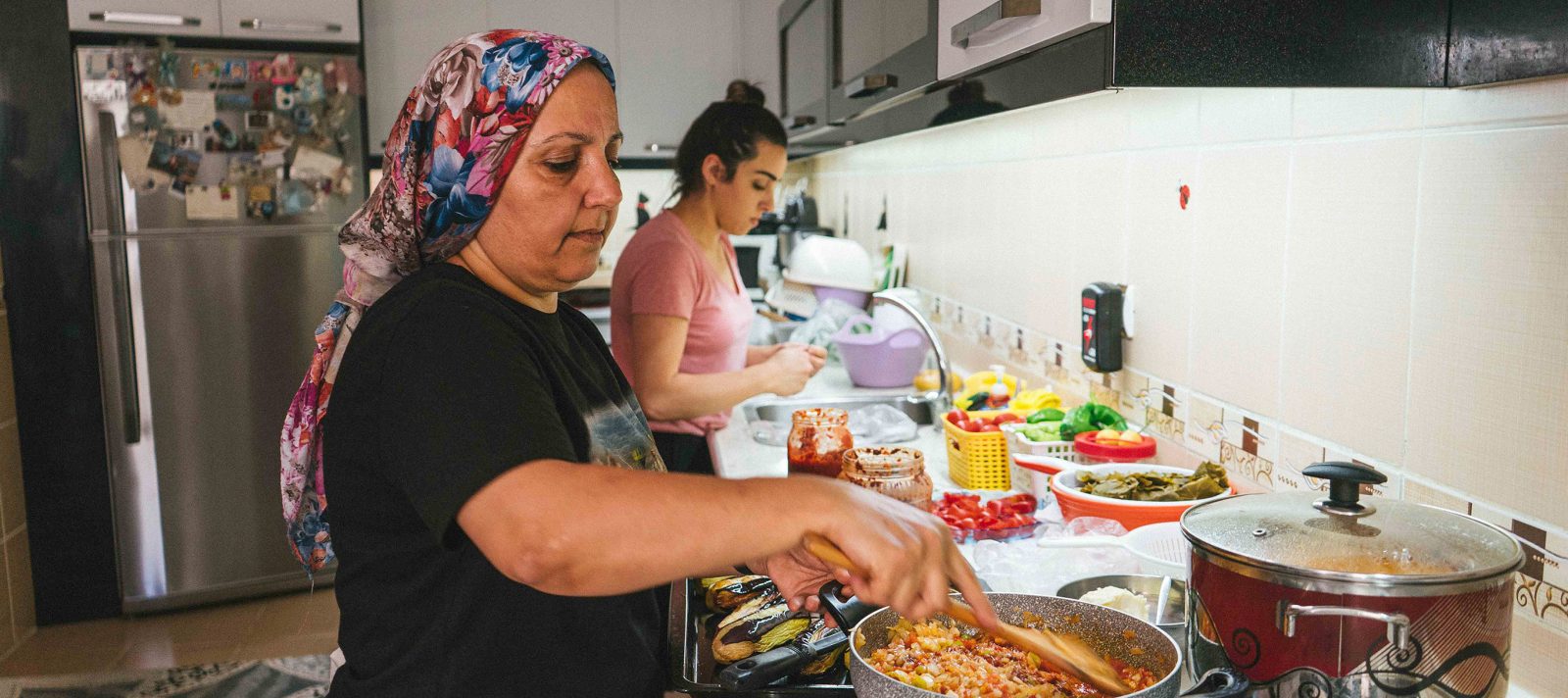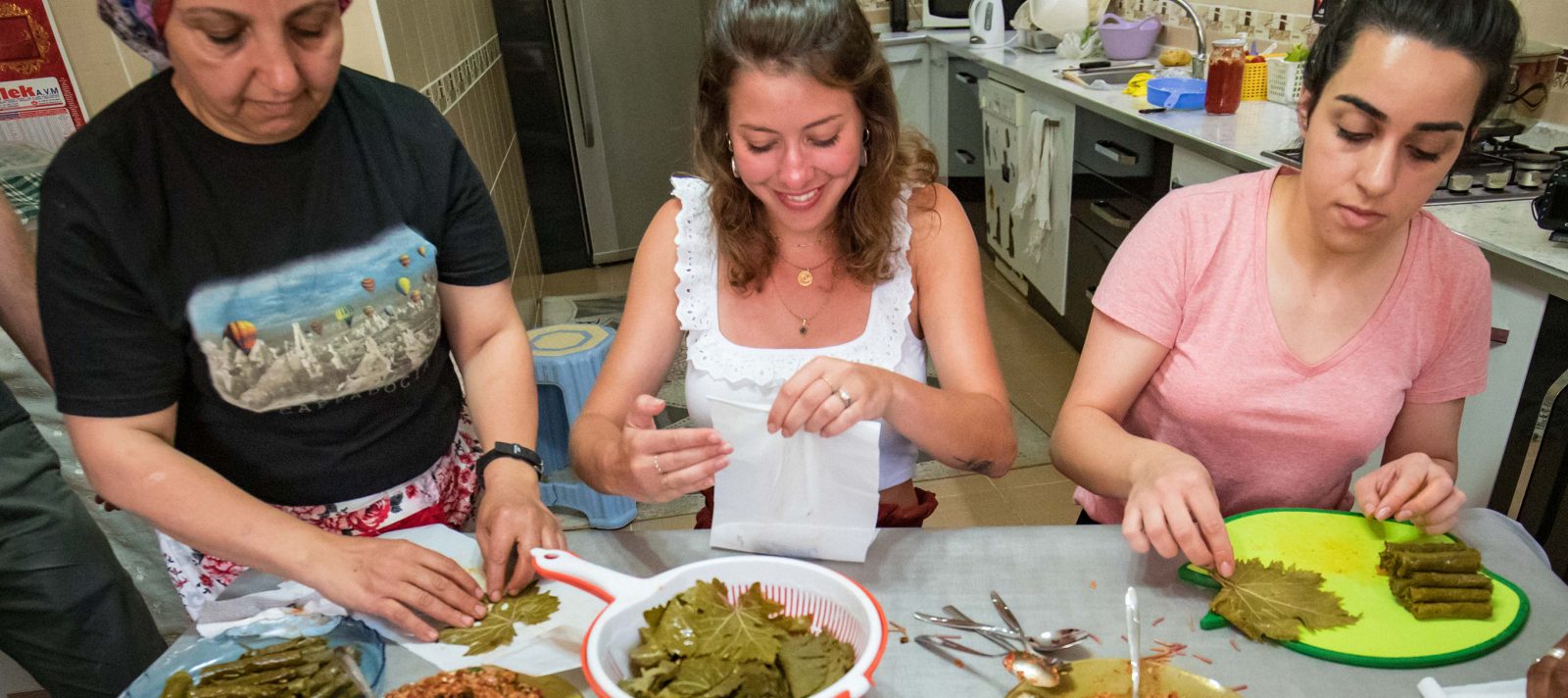 Sofia Levin travelled with assistance from Intrepid Travel, but this article was researched and published independently. For small group tours to Turkey, click here.
Around the World in 80 Lesser-Known Melbourne Restaurants
FREE food guide when you subscribe.